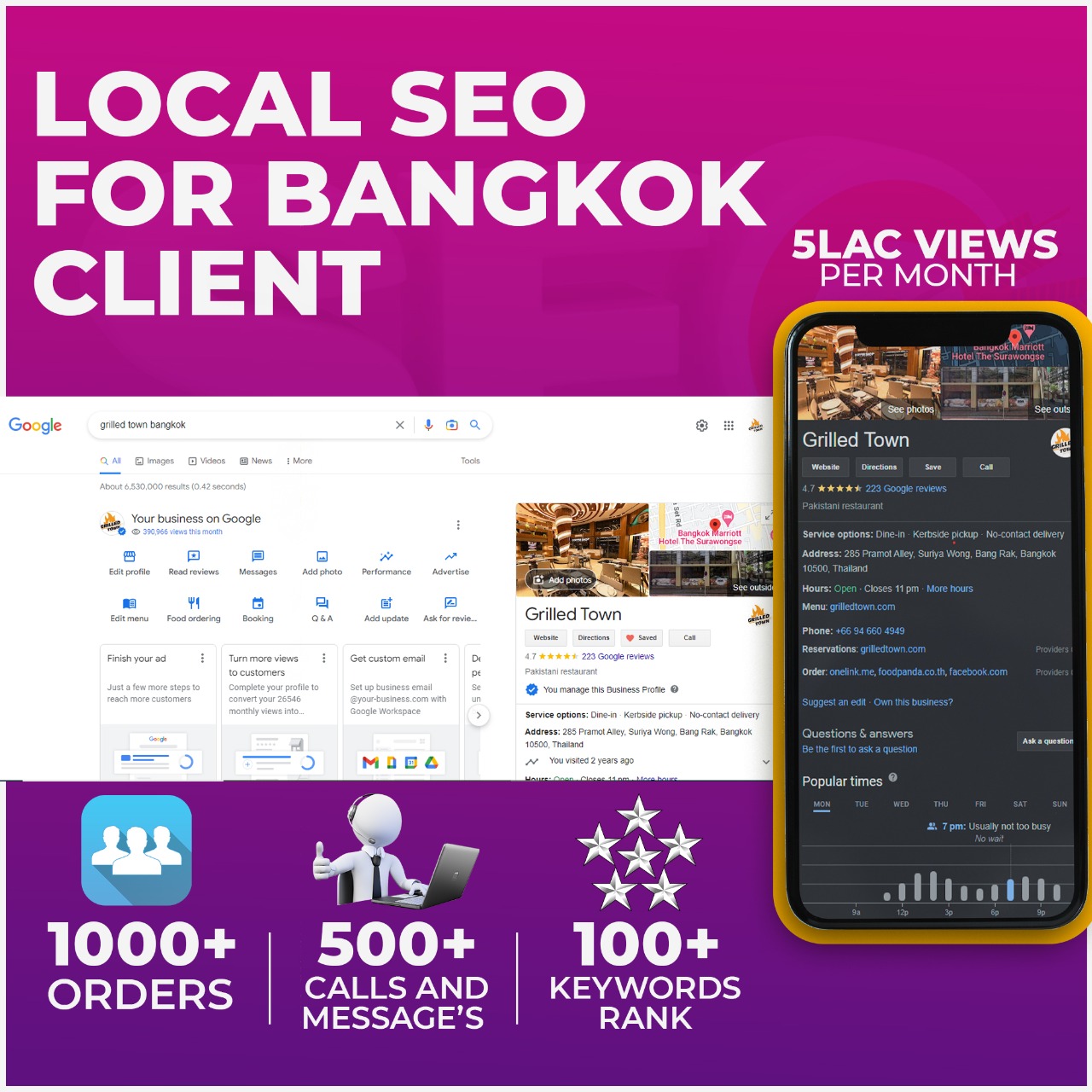 SEO Case Study – Grilled Town Restaurant
This SEO case study example focuses on Grilled Town, a Pakistani and indian Food restaurant in Suriya wong Bangkok Thailand. It reveals how you can analyze your business competitors to develop higher quality content that will gain a huge amount of traffic and convert those readers into customers. Read it to find out exactly what Grilled Town did during an SEO campaign to go from 126 unique visitors to 121,883 in under 6 months.
Grilled Town Sees 390,966 Increase in Google Business Profile Traffic – SEO Case Study
Overview
Grilled Town is a Pakistani restaurant serving halal food, Indian Food, Pakistani food and Bar-BQ in Bangkok for many years With its distinctive fusion of everything modern yet distinctly Indian and Pakistani food.
Client: Grilled Town
Industry: Food Service
Services: Website & Local SEO
Results: Traffic growth through Google Business Profile, traditional organic search
 The Challenge
Grilled Town needed a website solution that could better represent the premium quality of their local restaurant and grow awareness for their brand increase sales and dinner.
The Solution
RS Softwire work with Grilled Town to design a website that represented the upscale dining feel that the client is known for, and also did their restaurant marekting and we put the incredible photography of their dishes on full display for site visitors to see. Along with these visual upgrades, we helped to build out new features for the website, including online reservations and online ordering.
Alongside the website redesign, we focused on keyword optimization. Through keyword research, optimizing page titles, SEO copywriting, website structuring, and other best practices, we delivered an SEO-friendly website that has provided positive traffic results for the client.
For restaurants, local search optimization is a must. We optimized the client's Google Business Profile and standardized data across business directories to put Grilled Town in a position to gain visibility in Google's local pack and map results, which is critical for restaurants competing in local spaces.
Grilled Town GMB Listing:
Grilled Town Business Views:
Grilled Town Business Views:
Grilled Town Clicks via Google Business Profile:
Grilled Town previous Organic traffic on July 2022 was
After consulting RS Softwire their organic traffic is:
Some ranking keywords are:
The Results
Since launching the updated website and optimization efforts Grilled Town has experienced continuous growth. Google Business Profile actions—specifically website clicks—have been on a steady rise, and traffic to pages representing areas of the business they wanted to emphasize have grown as much as.
345 increase in website clicks from Google Business Profile
480 increase in organic traffic
30 ranking Keywords on local search
Whenever you are in Bangkok and craving for Pakistani and Indian fodd you must visit Grilled Town.