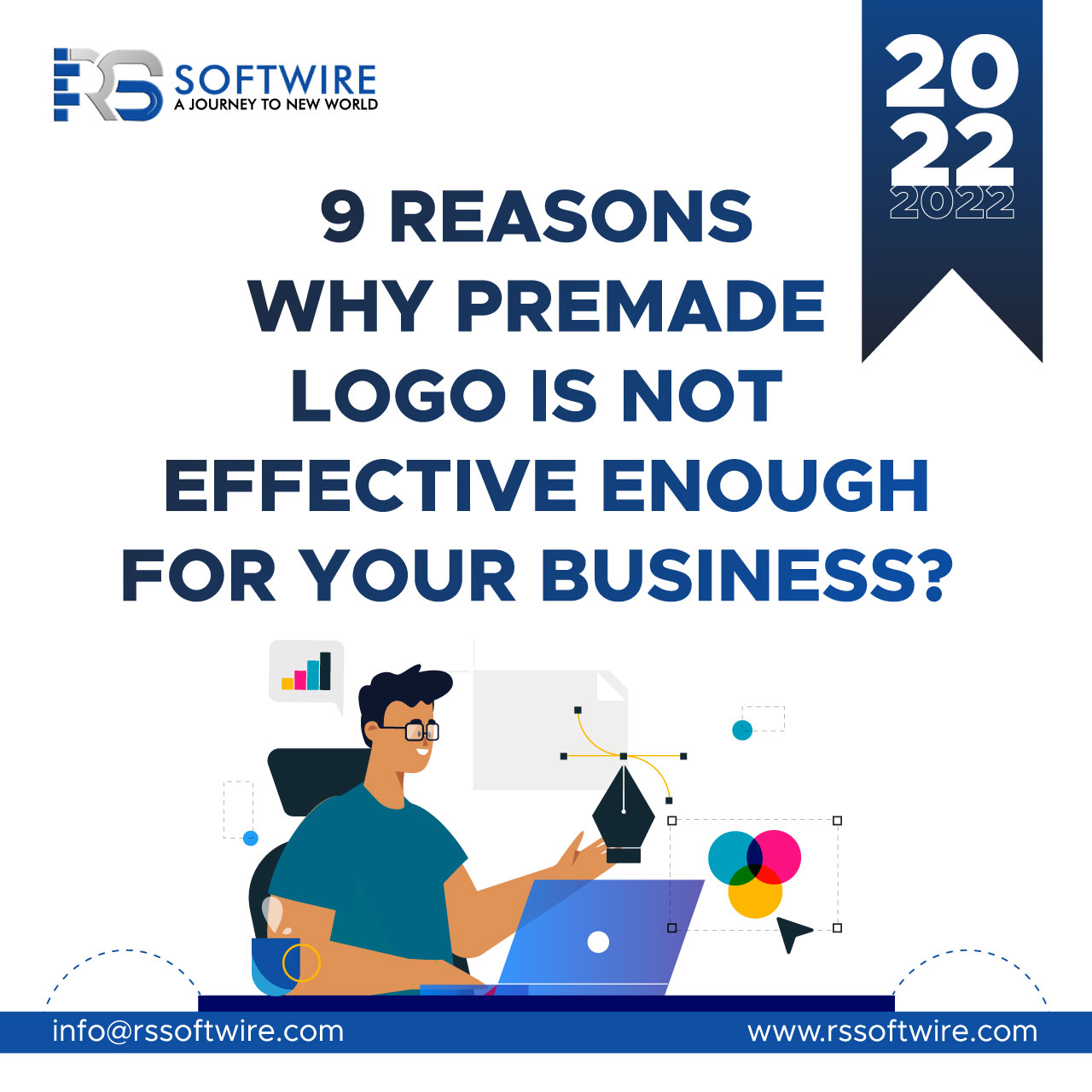 9 reasons Why Premade Logo Is not Effective Enough For Your Business?
Generic "premade" logos bought by multiple buyers expose you to legal and business risks and are worthless.
A logo is a company's identity, and some provides premade logos as it either creates a favorable or unfavorable image in the eyes of target buyers. A good logo will graphically reflect the vision statement, company values, and services. A well-designed logo will be remembered by the consumers and will leave an indelible mark on their minds.
Logos are highly significant, as opposed to other marketing collateral such as flyers and brochures, which have a short lifespan. The concept and content are no longer valid once the ad campaign has ended. Customers will quickly forget your style, no matter how unforgettable it is. However, this is not the case for logo design, which has a longer life than any marketing campaign.
Premade logos can be slightly adjusted by changing the font type or colour. This logo is famous among businesses because it is reasonably priced. If you have a vision for your business and want to develop your identity, a premade logo can negatively impact the company, affecting your reputation. Using a pre-made logo for your company is among the worst things you can do for your logo requirements. For a deeper understanding, here is a vivid description of the premade logo!
What is a premade Logo?
Premade logos are created with no particular corporation or business in mind; they are mass-produced and made available on online sites for people to buy or use if they find them suitable. They are often accessible at low prices and can be used immediately, which is one of the main reasons they appeal to certain people; however, we would argue that the expense of using a premade logo is much superior to the small token fee you can pay to get the right to use one. So, pre-made logos do not grant you or your company exclusive privileges, which is concerning.
One-size-fits-all results in a generic logo
Premade logos can be visually appealing, but they lack context. A well-designed logo should be customized to the company and its intended audience. Rather than simply designing an aesthetically appealing yet irrelevant icon, a skilled designer would ask questions about your brand and study your peers and target market to develop and execute a plan for your company by branding.
Logos are not unique.
A premade logo can be marketed to an unlimited number of companies. Customers might mistake your company for another, whether it is a competitor or in a sector with which you do not want to be linked. You miss out on the chance to build a memorable and unique identity, which was the original intention of creating a logo in the first position.
Since they are not custom-made, pre-made logos will never represent the company's unique purpose, values, and characteristics. Pre-made logos are usually selected solely based on your personal preferences.
Inability to trademark
the logo is not unique; you do not own the rights to it and cannot trademark it. This can become a problem as the company grows. When you order a custom logo, specialists will grant you preferential rights to the logo and ownership rights, which you will not get with a premade logo.
The key to defending your brand is to trademark the company's name and logo. Without a trademark, anybody in the market can run a similar company to yours and trade under the same label.
The only problem with pre-made logos is that they cannot be trademarked. When you buy a design template, you get a license to use it rather than the graphic copyright.
Low quality work
Professional designers recognize the importance of tactics and conceptual design and, as a result, are unlikely to sell their services on such platforms. Templated logos are often insufficient, offering only a simplified version of a logo, while a complete brand kit should provide all variants of the logo (full colour, grayscale, with and without tagline, and so on) in all formats.
The lack of customization in pre-made logos demonstrates their poor quality. There is a general mismatch between the logo design and the company and a lack of sophistication in the typography. Pre-made logos are crafted with a temporary business name in mind, and most do not manage a new name gracefully, mainly if it is of a different length. As a consequence, the typography is compressed, or the spacing is uncomfortable. Similarly, logos are often put together quickly with no consideration or concern about how the logo will be used.
Off-the-shelf logo designs are often just attractive graphics rather than actual logos.
No opportunity for refinement and customization
A ready-made logo entails simply using what has already been developed. To better understand the meaning of the company and express it by branding, a well-rounded design phase will involve daily input between the client and designer. Pre-made logos are not adaptable. Your logo should be available in all formats and across all channels, from print to social media, large to small. Professional logo designers ensure that the logo they produce can be used through many mediums.
A premade logo is only available in one shape and scale. They are frequently delivered in restricted formats and with a one-size-fits-all design. It is not considered how it can be used in small sizes such as business cards and large sizes such as billboards.
You can encounter difficulties if you only have one size and shape of your logo to deal with.
Sold countless times
Another major issue with pre-made logos is that they are often sold. The lower the price, the more often they are sold. This makes your company one of those with an identical logo, some of which might be in your industry.
Consider how damaging that is to your company. A logo is the face of the brand and is intended to express the company's ideals and personality, set you apart from the competition, attract your ideal customer, and build awareness. All of that is lost when your logo is not exclusive to your organization, effectively rendering your logo worthless. There is still tough competition in the market. Do your company a huge favour and distinguish yourself with custom branding.
Limited usability
From print to screen, large to tiny, and in every colour, you might think of. Skilled logo designers work hard to ensure that their templates can be found in a variety of contexts. The same cannot be said for many functionalized logo designs. Most downloaded logos come in a single form and structure, with little real regard about how they will be used when extra small or extra big.
This is a recurring issue for company owners who need to have comparatively small logos at the bottom of items or promotional materials. You'll efficiently run into problems if you only have the size and shape of your logo, to begin with.
Branding should be more than a logo.
The brand strategy should include more than just your logo: it is essential to define typography, colour palettes, imagery types, graphic elements, and so on so that they all work together as a cohesive unit. Using a premade logo eliminates this step, resulting in an inherently misleading and tactless brand that can mislead the clients.
Shows owner's lack of investment in brand
Buying a premade logo logo template could appear to be a cost-effective option, particularly in the early stages of your company. However, in the long haul, a lack of logo investment can devalue your brand. If you are dedicated to your business, display it by fully supporting its branding. Creating a custom logo may seem to be an outlay of funds right now, but it will pay dividends in the long run.
Wrapping Up
A successful logo distinguishes the brand from rivals and provides a favourable first impression. A logo provides a visual image that people immediately associate with the brand.
As a result, having a custom logo design rather than a premade logo is essential for your company. A customized logo will describe the brand's style, making it more appealing to customers.
Runaway from logo businesses that offer generic premade logo logos to many customers. When it comes to purchasing a logo template, you have many options. Choose an alternative that establishes a distinct identity and serves as the foundation of your brand. Ready-made logos obtained by several other companies will not do this for you and will also subject you to needless legal and business uncertainties.
Given the considerations above, it is strongly advised that you avert using premade logos for your company. It is suggested that each organization employ a professional logo designer to produce a one-of-a-kind logo that carries the brand's creative vision.
image source: graphicdesignbylisa