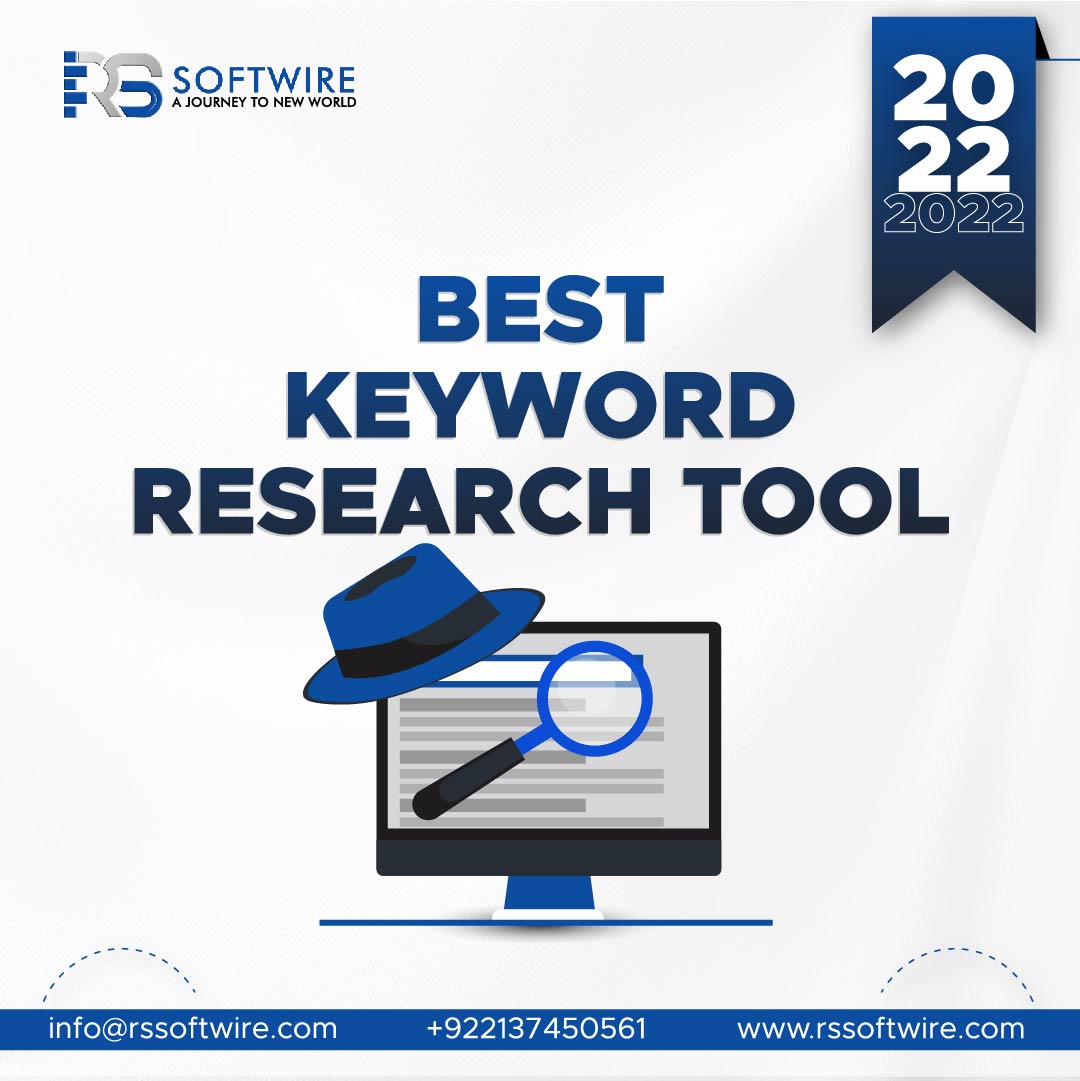 10 Best Keyword Research Tools in 2022
The importance of keyword research tools in current SEO cannot be overstated. Good quality keywords are one of the most efficient methods to bring regular, quality traffic to your site, whether you're relaunching an existing blog or designing your content plan for a new one. To assist you in conquering your content, we've produced a list of some of the top keyword research tools.
The 10 Best Keyword Research Tools
1. SEMrush
SEMrush is more than simply a keyword tool; it's the SEO equivalent of the Swiss Army Knife. SEMrush proposes 5-10 highly precise keywords that your rivals are already using instead of generating a list of keywords.
Standout features
Discover suggestions for ad groups and long-tail keywords.
Get an annual keyword trend report.
Statistics on CPC distribution across the world
The entire keyword research toolbox is available to you.
Insights about organic traffic and keyword difficulty
Pricing
SEMrush offers a free seven-day trial of its service. You must input credit card information to gain access to the trial, but there are no costs if you cancel your membership during the first seven days.
SEMrush offers four price options. Annual billing is required for the greatest deals.
Pro — This plan is designed for small businesses and freelancers on a tight budget. It costs $99.95 per month and is invoiced annually.
Guru — SEO companies and small to mid-sized businesses will find the capabilities in this plan ideal for managing content sites on a daily basis. Guru is available for $191.62 per month.
Business – It starts at $374.95 a month and is suited for eCommerce shops and agencies.
SEMrush may customise a plan for your needs if you have a large content strategy that goes beyond the capabilities of the preceding options.
2. KWFinder
KWFinder is a keyword research tool created by Mangools, a developer recognised for creating the best keyword research tools in a variety of sectors. To get started, you can follow their beginner's guide.
Along with a slew of additional capabilities, the KWFinder platform makes it simple to locate keywords with minimal SEO difficulty.
Standout features
A one-of-a-kind and simple-to-use user interface
Keywords may be found in any language and in any location.
Choose from the list of effective keywords.
Get detailed keyword competition information.
An in-depth look of the SERPs, as well as a list of recommendations
Filters can be used to narrow down the list of keyword ideas.
Pricing
KWFinder is included in the Mangools bundle, which also contains four additional SEO tools. There are just a few free searches available with this keyword tool. Choose an annual plan to save up to 40% on any of their three subscription options.
$30 for the most basic (freelancers and small businesses)
Premium (40 dollars) (new startups and blogs)
$80 for an agency (eCommerce stores and heavy sites)
3. Ahrefs Keyword Explorer
One of the greatest keyword research tools for content authors nowadays is Ahrefs. The software gives the customer a wide keyword report and uses clickstream data to provide unique click metrics.
Standout features
1,000+ keyword recommendations with an accurate keyword difficulty score
Over 171 countries have pledged their support.
Improve your CTR by using click metrics.
An in-depth look into the SERPs
Pricing
Ahrefs offers four different price options. If you pick an annual payment plan, the costs for freelancers, internet marketers, mid-sized enterprises, and larger corporations start at just $82 per month.
On their Lite and Standard membership tiers, they do give a trial offer ($7 for 7 days).
4. Google Keyword Planner
Google Keyword Planner is a straightforward keyword tool with only a few basic capabilities. Despite its lack of functionality, it is one of the most accurate keyword data sources available. The data comes directly from Google and the results integrate well with AdSense monetization.
Standout features
Use the "top of page" bid range to find commercial keywords.
Directly from Google's search engine, accurate search volume
The most suitable option for company websites
Pricing
The Google Keyword Planner is a free tool.
5. GrowthBar
GrowthBar is a fantastic tool for marketers and bloggers on the go who want to see ranking difficulties or keyword ideas alongside their search results.
Content outline creation is a new tool that allows you to build content outlines for your blog or website in one click, complete with keywords, word counts, headers, photos, links, and more.
It also helps you to investigate a competitor's profile, which includes backlink data, organic keywords, Google/Facebook ad information, and other relevant information.
Standout features
AI may be used to create content outlines.
Tracking keyword rankings
Accurate difficulty ranking
Keywords with a long tail
Keyword data that can be exported
Word count per page
Pricing
GrowthBar offers a free 5-day trial after which you will be paid according to your chosen plan. You may search for an infinite number of keywords with the higher-tier plan.
$29/month for Pro
Scale is $79 per month.
6. Long Tail Pro
Long-tail keywords are the new SEO standard, it's no secret. Long Tail Pro is a keyword tool that creates long-tail keywords for niche sites and has a cult following among micro-niche content creators.
Standout features
Keyword metrics that are both powerful and comprehensive
Long-tail keywords are simple to locate.
2,500+ SERP lookups per 24 hours provides tips for acquiring highly converting organic traffic.
Pricing
Long Tail Pro is a paid tool with a free trial period of seven days (subscription to be cancelled before 7 days). Subscriptions begin at $25 per month (when billed annually). Users may choose from three different plans at the moment with Long Tail Pro.
$25/month as a starter
$45/month for Pro
98 dollars per month for an agency
7. Majestic
Majestic is an all-in-one SEO tool for monitoring the health of your website. It's an excellent tool for new blogs and small businesses who don't have the money to engage in complex search engine optimization help.
Standout features
A single toolkit contains all SEO functions.
Look for terms that are simple to target.
Examine the competition for each term.
Website study graph of trustworthiness vs. authority
Pricing
To help you get a sense for the service, Majestic allows you to join up and do three free searches. However, the keyword checker is only accessible in the PRO and API subscriptions. When you choose yearly paying, you may get the SEO toolkit for $83/month.
8. Keyword Tool
Try Keyword Tool if you're obsessed with keyword data mining. The platform is considered as one of the best keyword research tools on the market, and it provides analysis for Google, YouTube, Bing, Amazon, and the App Store, among other search engines.
Standout features
Google Autocomplete can help you find fantastic keywords.
Use Instagram and Twitter keyword research to supplement your social media marketing.
Export the results to a CSV file.
Beginner-friendly UX
Pricing
Google Keyword Planner and Keyword Tool are extremely similar. It's free for the first 750+ keywords and really simple to use. The "Basic" subscription for Keyword Tool costs $69 per month and is invoiced yearly.
9. Serpstat
Serpstat is a fantastic alternative if you're looking for a comprehensive SEO suite that includes website analytics, a keyword research tool, SERP analysis, backlink analysis, a rank tracker, and website audit capabilities. It's an all-in-one solution that aims to simplify the entire SEO sector.
Standout features
Using the competitor graph tool, you may learn more about your competitors.
Find more about keyword difficulty and trends.
On our list, this is the most cost-effective choice.
Pricing
Serpstat, like a number of the other solutions we've described here, may be used for free a few times by signing up for a trial subscription. However, if you want to utilise the service on a regular basis, you'll need to sign up for one of their subscription plans. A monthly personal plan costs $55.
10. Moz Keyword Explorer
The Moz Keyword Explorer provides out-of-the-box keyword suggestions that are simple to utilise. Moz's SEO tool has all of the capabilities you'd expect from the greatest keyword research tools, as well as two additional data points.
Organic CTR score – This click-through rate shows how many clicks you're likely to get on Google's first page.
Priority score – A priority score is a sum of all the individual parameters that a typical programme considers when recommending keyword possibilities. It combines statistics on click-through rate (CTR), search volume, and keyword difficulty to assist you in choosing the optimal phrases for your project.
Standout features
Get keyword recommendations that are linked to your search
Smart targeting with organic CTR and Priority score
A one-month trial period is available from Moz.
Pricing
Get 10 free inquiries every month when you sign up for a free Moz account. The Keyword Explorer is not a stand-alone research tool; you'll need to purchase the whole SEO package to obtain full access to this handy little tool. The Moz keyword research tools are available in the platform's "Medium" plan, which starts at $179 per month and includes a free 30-day trial.