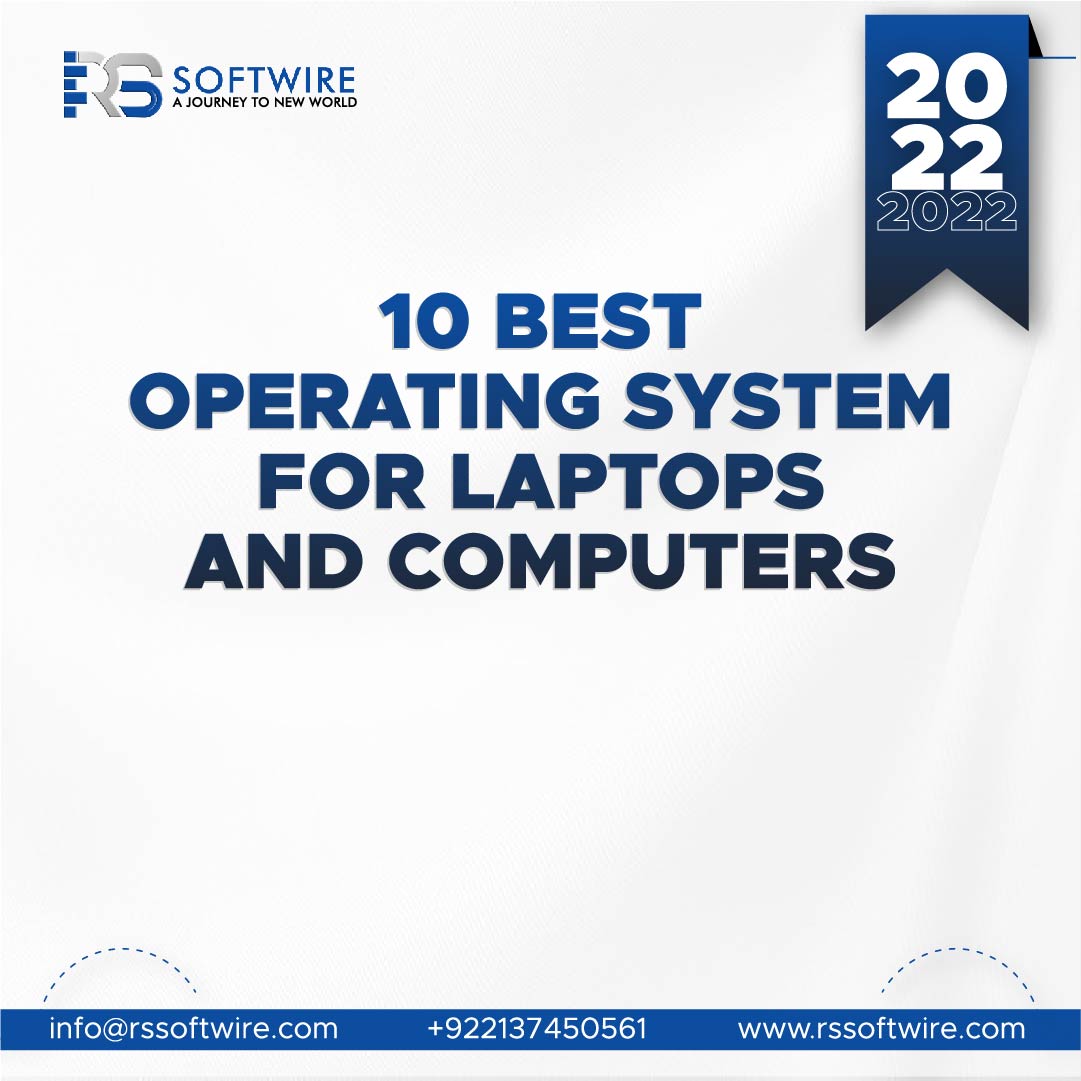 10 Best Operating Systems For Laptops And Computers
The marvel of technology has graced the present era and best operating systems for laptops and computers are needed. Computers are one of these marvels that have made our life easier, faster, and more enjoyable. Computers are a game-changing innovation that has altered the path of human history. It has progressed from large desktop boxes to smaller, more portable laptops and mobile phones, the fact that these computers function the way they do is something that few people discuss. Of course, we're referring to the operating system, or OS. A computer cannot simply work without an operating system.
For years, the argument has raged over which of the various operating systems is truly the greatest. With our carefully collected list of the top operating systems in the world, we will attempt to answer this question in this post.
10 Best Operating Systems For Laptops And Computers
The following list intends to make your decision-making process easier, so you don't have to waste time debating which option is better.
1) MS-Windows
The most popular and well-known operating system on this list is Windows. It has been the go-to operating programme for computer systems globally since Windows 95 and continues to be so today with Windows 10. It is simple to use and quickly starts and continues operations. The most recent versions provide enhanced security features to keep you and your data safe.
Features:
A sophisticated User Interface with a start menu on the left side that lists options and represents apps, allowing for faster navigation.
By displaying all active Windows, the Task View functionality allows users to transition between many workspaces at once.
There are two different user interfaces, one for mouse and keyboard and the other for touchscreens called 'Tablet Mode.'
Multifactor authentication technology, such as BIN, PIN, and fingerprint recognition, is used to increase security.
Reduce the size of system files by compressing them automatically.
Conclusion: Because of how it has grown through time, Windows software is simply the greatest. Its security system is cutting-edge, and its user interface makes it easy to use no matter what device you're using. The only thing that can irritate some people is the price.
2) Ubuntu
Ubuntu is a Linux-based operating system that includes everything you need in a system. It's ideal for usage in businesses, schools, and at home. It's free to download, use, and share, which is reason enough to give it a try. Canonical, a multinational software firm, and now the top Ubuntu service providers support it.
Features:
Ubuntu is a free and open source operating system that allows people to download, use, and share it.
It has a built-in firewall and virus prevention software, making it the most secure operating system available.
You'll get access to security patches and upgrades for the next five years.
Ubuntu has been fully translated into 50 languages.
It works and is compatible with all of the most recent laptops, desktop computers, and touch screen devices.
Conclusion: Ubuntu is an excellent choice for folks who have holes in their pockets. Its open-source aspect is appealing enough to draw in a large number of people. But it makes up for it in terms of quality with a solid UI and security measures that are impossible to overlook.
3) Mac OS
The Mac OS has been the staple of almost all Apple devices as we can remember. It has evolved with time to include the features that first and foremost define innovation. In recent years, the MAC operating systems have been completely free with the occasional free upgrade by its developers. For Apple users, there is no other option except the MAC OS.
Features:
The new dark mode provides your desktop interface a more dramatic and easier-on-the-eyes appearance.
A dynamic desktop that organises your desktop files by type, date, or tag automatically.
Continuity camera that scans or pictures a document at close proximity to your iPhone and displays it on your Mac automatically.
With the MAC app store, you may find hand-picked apps.
Users may now search for music with few lyrics on iTunes.
Make your online profile more anonymous to prevent websites from following your Mac.
Conclusion: Mac's greatest achievement is the dynamic appearance and style of its interface. It is, without a doubt, one of the most attractive operating systems available today. Apple is now enabling its consumers to download this OS and all of its updates for free, which has relieved a lot of stress for Apple users who are already paying a premium for their gadgets.
4) Fedora
Fedora is a Linux-based operating system that competes with Ubuntu's open-source features. Fedora is a dependable, user-friendly operating system that can run on any laptop or desktop computer. Fedora is an operating system designed for casual users, such as students, hobbyists, and professionals in business settings.
Features:
On the Gnome 3 environment, a sleek new user interface allows developers to focus on their code.
It provides a comprehensive open-source toolkit, with languages, tools, and utilities all available with only a few mouse clicks or keyboard instructions.
Allows you to use advanced virtualization tools to set up and run virtual computers.
With OCI (Open Container Initiative) image support, you may containerize your own apps or deploy them out of the box.
Conclusion: Fedora is great for developers in the business context, however it is also useful for home usage. It is free and has all of the tools and utilities that a developer needs to work on their projects.
5) Solaris
Solaris is a UNIX-based operating system that was created by Sun Microsystems in the mid-nineties. After Oracle purchased Sun Microsystems in 2010, it was renamed Oracle Solaris. It's notable for its scalability, as well as other technologies like Dtrace, ZFS, and Time Slider that helped make it feasible.
Features:
Provides the world's most comprehensive security capabilities, including process and user rights management, allowing you to protect mission-critical data.
For web, database, and java-based services, it provides undeniable performance benefits.
Provides high-performance networking without requiring any changes.
There's no limit to how much capacity you may use to assist manage your file system and databases.
Allows for smooth interoperability, which may be used to solve hundreds of hardware and software issues.
Conclusion: Oracle Solaris is widely regarded as one of the greatest free open source operating systems available. Scalability, interoperability, data management, and security are all important for enterprises that require high-end operating software.
6) Free BSD
FreeBSD is a free UNIX-based open-source software, as the name implies. It's compatible with a wide range of systems and focuses on aspects like speed and stability. The genesis of this programme is the most intriguing aspect about it. It was constructed by a vast community at the University of California.
Features:
Many operating systems today lack advanced networking, interoperability, and security capabilities.
Ideal for internet and intranet applications, it can handle enormous loads and efficiently manage memory to provide fast replies for numerous users at the same time.
Higher-end Intel-based appliances require a more advanced embedded platform.
Installing through CD-ROM, DVD, or FTP and NPS over the network is simple.
Conclusion: Given that it was created by a vast community of students, Free BSD's greatest attraction is its ability to produce a powerful operating system. It's ideal for networking because it's compatible with a variety of devices and easy to set up. As a result, give it a shot.
7) Chrome OS
Chrome OS is yet another Linux-kernel-based operating system created by Google. It uses the Google Chrome web browser as its primary user interface because it is based on the free chromium OS. This operating system is primarily designed to run web apps.
Features:
An offline media player that allows users to listen to MP3s, view JPEGs, and manage other multimedia files.
Access to remote applications and virtual desktops.
Chrome OS has been built to work with all Android applications.
It is feasible to run Linux apps on Chrome OS.
Conclusion: Chrome OS is a functional operating system, but it still has a lot of potential for what it may become in the future. For the time being, it works well with multimedia, Linux, and Android apps. We'll have to wait and see what happens with the other features.
8) CentOS
CentOS is a community-driven open source free software that enables for reliable platform administration. It's ideal for programmers searching for an operating system that simply assists them in their coding chores. That isn't to suggest it hasn't got much to offer individuals who just want to use it for everyday tasks.
Features:
Coders wishing to create, test, and distribute their code will find a wealth of resources here.
Many operating systems today lack advanced networking, interoperability, and security capabilities.
It solves hundreds of hardware and software issues, allowing for smooth interchange.
It has some of the world's most advanced security capabilities, such as process and user rights management, allowing you to protect mission-critical data.
Conclusion: We suggest CentOS to programmers rather than for personal or residential use. CentOS makes coding easier and faster for them. Furthermore, it is unrestricted.
9) Debian
Debian is a free open-source operating system based on the Linux kernel. It includes over 59000 packages and is pre-compiled software packaged in a user-friendly way. It's simple to set up and has a user-friendly interface.
Features:
Regardless of CPU performance, it is faster and lighter than the other OS.
It has built-in security firewalls to protect sensitive data.
It's simple to set up using any material.
Many operating systems today lack advanced networking, interoperability, and security capabilities.
Conclusion: While Debian isn't the most versatile of the operating systems listed above, its free open source nature makes it worth a go if you're low on funds.
10) Deepin
Deepin is a free and open-source operating system based on the stable version of Debian. It includes DDE (Deepin Desktop Environment), a QT-based desktop environment. It's been hailed for its lovely aesthetics and user-friendly interface.
Features:
Aesthetics that are both user-friendly and robust.
Security aspects that are advanced.
Installation is a simple process.
Font installer, file manager, screenshot, Deepin screen recorder, voice recorder, image and video viewer, and more Deepin programmes may be found here.
Conclusion: Deepin can easily be classified as its own specialised operating system. It's open-source and fixes many of Debian's flaws. With a few tweaks, it will be able to compete with the leading operating systems, such as Windows and Mac, in no time.
Conclusion
An operating system is the gasoline that allows you to use your computer whenever you want. There are a variety of operating systems that make this feasible. Choose the operating system that best meets your demands and provides the most comfort. If you're searching for a personal computer for things like gaming and surfing, Windows is the way to go. If you own an Apple device, you have no choice but to use the MAC OS.
Linux and UNIX-based operating systems are available for enterprises. Whatever option you pick, the following list will assist you in removing any ambiguity and making the best decision possible.
The best operating system should be able to do the following:
Critical computer applications are being run.
Manage the software and hardware of a device.
Connect to the CPU to allocate memory and storage.