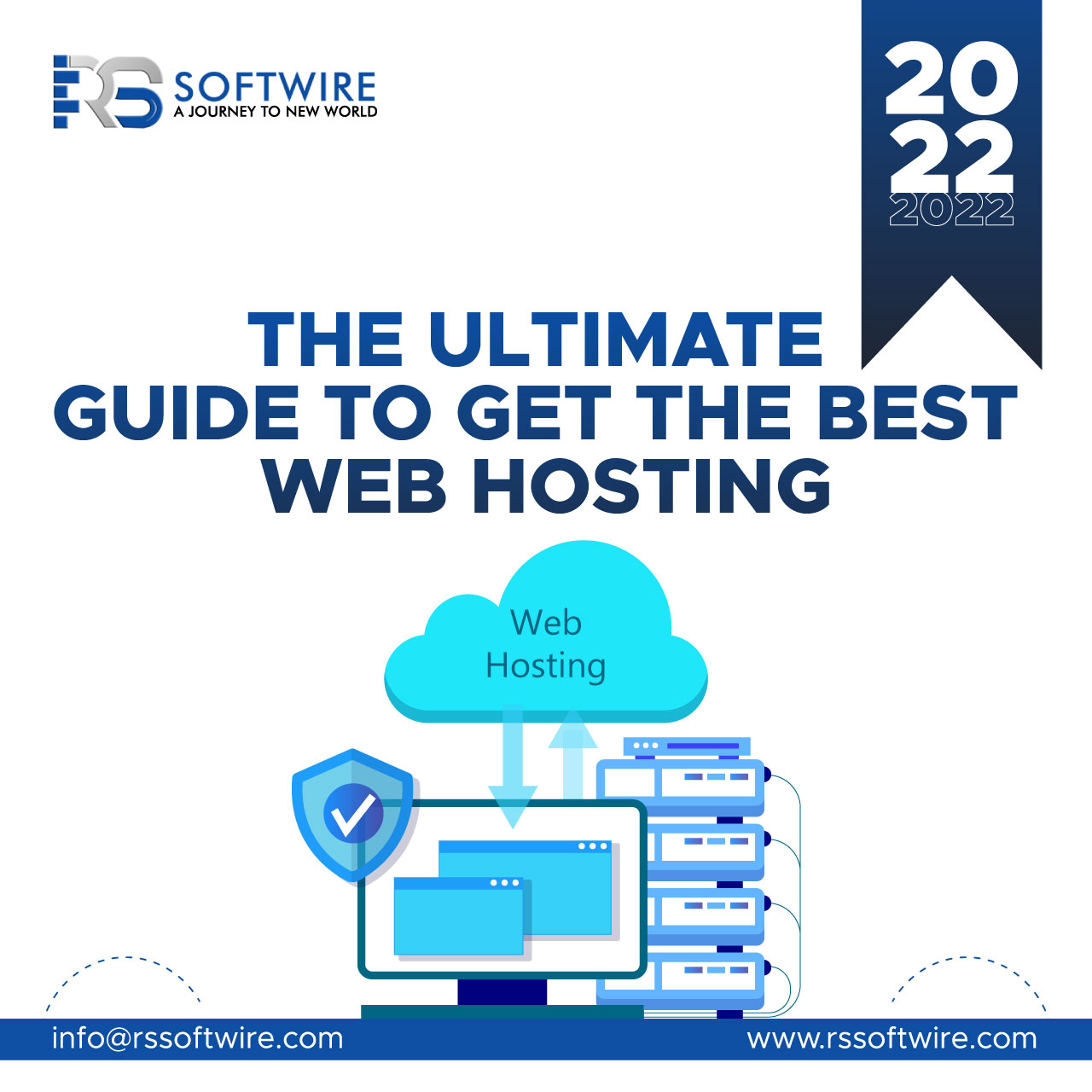 The Ultimate Guide to Get The Best Web Hosting
Web Hosting is the internet's unseen pillar. Any website requires a 'home,' a location where its files can be accessed at any time and from any site. That is what hosting entails. It's a piece of internet real estate. If you want to build a website, it must be hosted somewhere. A quick site that is almost always available is the result of good hosting. A good hosting provider is inexpensive, low-maintenance, and scalable. Poor hosting is the polar opposite. Hosting is an essential pillar in the hyper-competitive, vivid imagination internet world.
What is web hosting?
For a monthly or annual fee, a web hosting company or web hosting service allows you to use cloud space and be online. There are various forms of web hosting firms, some famous for their low rates and others for the additional features. When choosing the most app hosting service for your website,
however, you should aim for a host that is both inexpensive and of cutting edge quality. The standard of your web host has a lot to do with the success of your website. As a result, this is among the most important decisions you will make to ensure the success of your online company.
Web hosting involves storing all of your website's content, records, and information on a server. So, when a user types your website into a web browser, their device connects to the server, and all of the information from your website is sent to them. The range of hosting choices available can be overwhelming, particularly for those of you intending to host your first website.
The first query to be asked is what kind of host you should use. As you would expect, the needs of a small website with just a few hundred visitors per day vary significantly from those of a high traffic eCommerce website that produces thousands of dollars in revenue every day.
Step by Step Guide
Step 1: Choosing the Type of Your Website
In particular, there are two types of websites, each with its own set of Web Hosting requirements. They are as follows:
A static website does not alter in response to the user's behaviour. So, for example, in our About Us page, we want to remind visitors about the specifics of our page and business—and the source code—will not change based on user actions.
A static website is usually built using a simple text editor and 'only' HTML and CSS. However, the term "static" does not inherently imply that all of the pages will look the same. Each page can use a unique HTML code0 and look completely different.
Another common misunderstanding is that static websites are only concerned with textual content. The truth is that we can provide videos, audio files, and stunning images in a simple HTML message. Again, static here basically means that the web site's source code will not change regardless of what behaviour a user takes on the place.
In comparison to a static website, a dynamic website allows the user to interact with the website's features, and the website can provide input based on the user behaviour. Although static websites, as previously mentioned, depend solely on client-side CSS and HTML, dynamic websites often rely on server-side languages such as PHP or JavaScript.
A dynamic website with eCommerce interfaces (i.e., an online store) is a good example. Many websites allow users to have personal accounts (i.e. forums, social network sites, etc.)
Step 2: Choosing Between Different kinds of Web Hosting
Different websites have additional Web hosting requirements based on various factors ranging from size to pricing to dependability. However, in general, we can categorize various hosting services into several categories, and here are some of the most widespread:
When you sign up for a dedicated Web Hosting service, you are hiring a single physical server and can use the whole server for your website. This results in quicker, more efficient, and stable hosting, as well as additional flexibility, such as the ability to use your desired operating system and install your software.
A dedicated hosting service, on the other hand, is usually the most costly of the lot. Furthermore, since you will be handling your server, you will need some technical expertise and programming knowledge (or you might need to contact a system admin).
A dedicated web hosting service is usually needed only when the company is large enough to justify the costs of recruiting a system administrator (or even a team of administrators) and the monthly costs of a dedicated server.
Pricing: starts from around $70/month.
Recommendation: GoDaddy and NameCheap offer some of the best web hosting sevice providers, most reliable dedicated hosting services out there.
In contrast to dedicated web hosting, you share a single physical server with other websites. You have your own (secured) account, so you can continue to own your website personally. The main benefit of this type is that the cost is distributed, so your average hosting fee can be much lower than that of dedicated hosting, as minimal as $5/month.
However, when you share the server with other sites, a high-traffic site sharing the same server as yours might jeopardize your site's speed and efficiency. On the other side of your site is the one with the most traffic on the server; you get the most out of the server's pace and performance while investing the least amount of money. In any SEO strategy, site speed is a critical ranking factor.
A good option for new or start-up businesses or those who do not anticipate a high volume of traffic (at least initially).
Pricing: Starts from around $5/month to approximately $30/month
Recommendation: Bluehost is a famous and affordable shared web hosting provider, NameCheap and GoDaddy are also good options.
VPS is an abbreviation for Virtual Private Server, and it is basically a shared hosting server with additional functionality. VPS hosting, in particular, provides tools and services for dealing with traffic spikes, which are the most common problem with shared hosting.
With VPS hosting, we get a portion of the shared hosting, resulting in a "private server," as the name suggests. As a result, a VPS service combines the affordability of shared hosting with the adaptability of having a dedicated resource.
An excellent pick for medium-sized companies and eCommerce sites, as well as those looking to move up from shared hosting.
Pricing: Starting from around $25/month
Recommendation: NameCheap and HostGator offer better VPS plans.
Managed WordPress Hosting
This category includes WordPress-specific web hosting services. In the simplest form, this is a shared web hosting service where the service provider will also assist in the maintenance of your WordPress environment, such as ensuring that it is improved over time (and does not conflict with other updates), protecting the site from hackers and other security threats, and so on.
Although not as cheap as a traditional shared hosting service, it is a good choice if your site is WordPress-based or uses an alternative CMS to WordPress.
Pricing: Starts from $35/month
Recommendation: WPEngine for affordability, GoDaddy for reliability. )
Cloud hosting enables several physical servers to communicate via the cloud before web hosting a website or several websites—similar to a shared hosting scheme. In principle, hundreds of servers could collaborate. As a result, with this hosting style, we have nearly limitless flexibility in scaling our website's hosting to meet our needs.
Cloud hosting is usually very effective at dealing with traffic spikes (i.e. during a DDoS and application layer attack). A very adaptable web hosting service form that allows you to tailor your budget to your specific requirements. Because of how a cloud storage network is structured, you just pay for the services you use. You are not required to adhere to the precise allowance that the hosting company provides.
Pricing: Typically uses a pay-per-use model, so it will vary depending on your requirements
Step 3: Choosing Between Linux and Windows Hosting
Most common website hosting services allow you to select between Linux and Windows hosting.
As of 2019, Linux is the most leading operating system for web servers, and a widespread misunderstanding is that the Linux environment is more stable than Windows. Both operating systems are equally stable, and factors such as server configuration and the team behind the servers would be more critical in security.
Applications
There are specific applications that are only supported on one particular system.
Windows – Windows supports ASP.NET, Cold Fusion, VB Development, C# and Microsoft products such as Access.
Linux – SSH is native to Linux, as are Apache Modules. Due to Linux being open-source, there are a variety of applications available for the system free. In comparison, most Windows applications need to be purchased.
MYSQL can be used on both systems though MSSQL is a standard option for Windows users. Languages such as PHP and Perl tend to be associated with Linux but can also be used on Windows.
Five Key Features of Secure Hosting Plans
The security of your web hosting account is significant. You'll also need a safe hosting kit to prevent viruses from infiltrating your device. Nowadays, several dishonest schemes and businesses are willing to use your emails for spamming and your website for advertising.
It is challenging to determine which hosting companies have highly secure servers. You see beautiful images and excellent hosting plan outlines, but you never know what lies behind them. The key way to ensure better security is to buy web hosting from companies with specific security features. The five features mentioned below will make your data more secure and your visitors more pleasant. They are as follows:
RAID is a unique data-protection device. It will protect your files even if the server fails. It's a positive sign if a web host has servers with RAID already installed. However, since this feature is very costly, it is not included in most shared plans. Some web hosts charge an additional fee for RAID; find out as much information as you can before making the purchase.
A stable data centre is also necessary. Anything is possible in the world of mother earth — consider floods, power outages, and earthquakes. Wouldn't it be awesome if your web host was prepared in such situations? Secure facilities, diesel power generators, and other security measures are unquestionably advantageous. Also, consider the location of your web host's datacenters — prefer places that are not prone to natural disasters.
Uptime means the amount of duration your website remains operational and accessible to your customers. Many web hosts would claim to have 100 per cent uptime, which is not always the case. However, short-term shortages aren't always a bad thing, particularly if you're a start-up with few website visitors right away. If this is the scenario, you can search for web hosts that offer downtime recovery.
Many organizations have the option to create a backup of your data in the event of an emergency. The most popular backup schedules are regular, weekly, and monthly. Regular backups are, of course, the strongest. If your server fails, you will be able to restore the most recent version of your website.
Furthermore, some web hosts have a manual backup, which is even better — you can use it if you make changes to your websites. Finally, many service providers impose backup limitations (e.g., a maximum of 10Gb), so it is essential to read all backup requirements before buying a hosting package thoroughly.
Manual rebooting is a feature that is provided in VPS and dedicated bundles. It enables you to restart your dedicated or virtual server using the control panel. That's perfect for when you're making significant changes. In addition, if you find any issues with your server, a manual reboot is highly recommended. You can try rebooting your rack first; if the problem persists, you can still notify your web host's customer service.
Images Source: educba