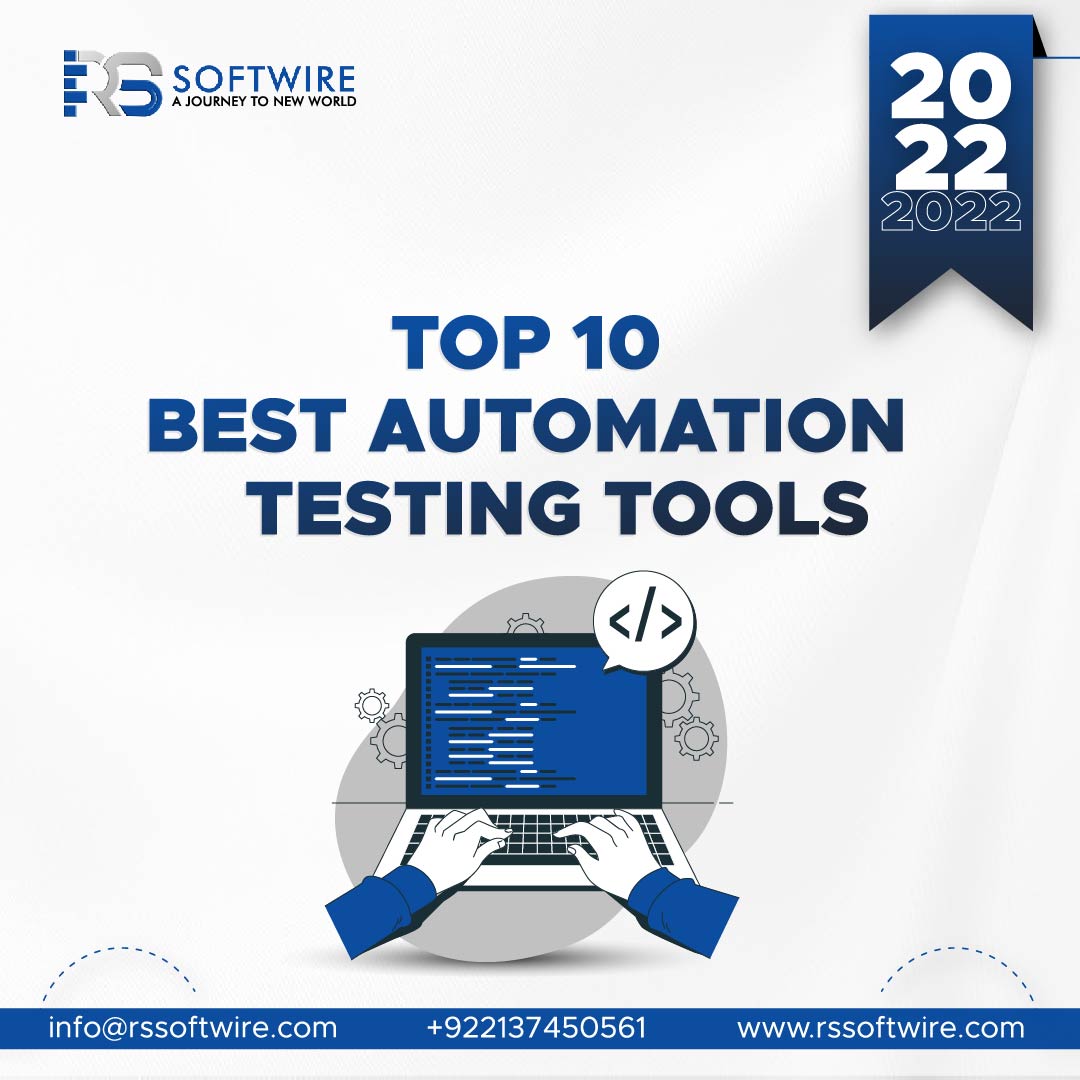 Top 10 Best Automation Testing Tools In 2022 Comprehensive List
For your convenience, we've compiled a thorough list of the Best Automation testing tools. You may do some study and decide which option is ideal for your project. Automation testing is running software programmes that automatically execute test cases and provide test results without the need for human participation. It's a step up from manual testing. It saves a lot of time and effort for humans, and it allows no or very little room for testing errors. Once ready, automated tests may be performed as many times as needed to evaluate the same application, reducing the amount of effort spent on manual testing.
There are various top automation testing tools accessible these days, thanks to the rising necessity and demand for automation in the sector of IT. The following is a comprehensive list of the most widely used test automation tools. There are both commercial and open-source test automation solutions in this list. Almost all licenced programmes, however, come with a free trial version that allows you to try out the tools before determining which one is ideal for your needs.
1) LambdaTest
LambdaTest is the greatest desktop and online application automation testing solution. With LambdaTest, you can do manual and automatic cross-browser testing in your preferred language, such as Python, Java, or Javascript, on a combination of 2000+ desktop and mobile browsers.
By running tests in parallel using LambdaTest, you can cut your testing time in half. You may also test for Geo-Targeting, Geo-Blocking, and Geo-Location in over 27 countries, including India, Japan, the United States, Canada, Germany, the United Kingdom, and Australia.
2) TestComplete
TestComplete is the most popular desktop, mobile, and online automation testing solution. You may create and perform functional UI tests with TestComplete using strong record & replay features or scripting in your favourite languages, such as Python, JavaScript, VBScript, and others.
TestComplete supports a wide range of applications, including.Net, native and hybrid iOS and Android apps, as well as regression, parallel, and cross-browser testing. You can scale your tests over 1500+ actual test environments for total coverage and enhanced software quality.
3) QMetry Automation Studio
QMetry Automation Studio (QAS) is a prominent software automation solution based on the Eclipse IDE and the Selenium and Appium open-source frameworks. QMetry Automation Studio gives automation projects structure, efficiency, and reusability. With scripted automation, the studio allows a comprehensive automation plan, while scriptless automation solutions allow manual teams to effortlessly shift into automation.
In addition to test authoring, QAS supports the web, mobile native, mobile web, web services, and micro-services components to give a unified solution for an Omnichannel, multi-device, and multi-locale scenario. This enables the digital organisation to grow automation, obviating the requirement for specialised software.
QMetry's AI-enabled QMetry Digital Quality Platform is one of the most complete software quality solutions available, combining test management, test automation, and quality analytics into a single suite.
4) TestProject
TestProject is an end-to-end test automation tool for online, mobile, and API testing that is completely free. Even better, it's backed by the world's largest test automation community, which has tens of thousands of members. Gartner has ranked TestProject as the best free automation tool, with a rating of 4.6/5 stars.
Top Reasons to Love TestProject include:
Non-technical users will appreciate our scriptless test recorder.
SDK for advanced scripting (import existing Selenium and Appium tests).
Storage and retrieval of page objects in the cloud.
Beautiful executive dashboards and analytics.
There are almost 200 community-driven extensions.
SauceLabs, BrowserStack, Jenkins, Slack, and more services have built-in connectors.
Build and maintain a test framework is unnecessary as TestProject already allows you to:
Create and run tests on Windows, Linux, MacOS, and Docker, among other platforms.
Install and manage drivers and dependencies.
Locally and on the cloud, distribute test execution.
Permissions and project management for users and projects.
5) Katalon Studio
Katalon Studio is a test automation solution that includes API, Web, Desktop, and Mobile testing. It includes a comprehensive set of functionality, including the ability to record activities, create test cases, generate test scripts, execute tests, report findings, and integrate with a variety of other tools throughout the software development lifecycle.
Katalon Studio is a multiplatform application that operates on Windows, Mac OS X, and Linux. It also allows you to test iOS and Android apps, as well as Web applications in all contemporary browsers and API services. Katalon Studio integrates with a number of different applications, including JIRA, qTest, Kobiton, Git, Slack, and others.
Katalon Studio has a free version for individual testers and starts at $759 for an Enterprise licence.
6) Worksoft
Worksoft's Agile-plus-DevOps continuous automation platform for complex corporate applications is the industry's best. Worksoft Certify is the "gold standard" for testing SAP and non-SAP corporate applications, with pre-built, out-of-the-box improvements for over 250 regularly used online and cloud apps.
Certify's world-class ecosystem of corporate application DevOps and continuous delivery solutions provide clients total freedom over how they want to use genuine end-to-end automation for their digital transformation initiatives.
Worksoft is the first continuous test automation platform that doesn't need any coding. It's designed for large companies that need to test mission-critical business processes across numerous apps and systems.
7) Testsigma
Testsigma is one of the top Automation Testing tools on the market today, and it has ushered in a new era of intelligent automation that is ideal for today's Agile and DevOps environments.
Testsigma is an AI-driven test automation solution that automates even complicated tests using plain English and fits the demands of continuous delivery. Testsigma is a test automation ecosystem that includes all of the parts needed for continuous testing. It allows you to automate Web, mobile, and API services, and it supports hundreds of device/OS/browser combinations on both cloud and local computers.
8) ACCELQ
ACCELQ is the first cloud-based, codeless test automation technology that automates API and web testing, allowing enterprises to achieve continuous testing.
Highlights include:
AI-based test automation enabling quick development and adaptability.
Test automation assets may be developed three times faster and require 70% less maintenance.
Power and flexibility to handle even the most complicated automation with no coding required.
Continuous Test Automation platform that enables CI/CD with Jira, AzureDevOps, Jenkins, and other tools.
Salesforce Test Automation, as well as Salesforce Lightning and custom objects, are all supported seamlessly.
Web, API, microservices, database, mainframe, pdf, and other enterprise technologies test automation are all supported.
9) Qualibrate
Qualibrate is a cloud-based SAP and Web App test automation solution that combines the power of simplicity, customisation, and integration with the most popular CI/CD technologies. Test cases are extremely reusable and simple to maintain.
Even the simplest implementations need well-organized teams to cope with the complexity of getting value into production. To reduce manual labour and duplication of effort, testing, documentation, and learning activities require a cohesive strategy.
Qualibrate offers a ground-breaking strategy to delivering your software that reduces risk and implementation time by up to 80%.
Project teams may rely on a unique source with Qualibrate: the Business Process recording. The recording is used as the basis for business process documentation, automated E2E regression testing, manual testing, and end-user training.
10) Kobiton
The Kobiton mobile device testing platform allows for scriptless test automation. It may turn your manual testing into automated tests. The scripts generated using Kobiton can be run on a wide range of devices.
It supports Appium, Selenium, XCUI, Expresso, and other scripting languages. It makes doing testing on real devices easier and supports the most recent iOS and Android devices.
Kobiton may be integrated into your DevOps CI/CD infrastructure. It's a feature-rich platform with a slew of features, including automatic crash detection.
Conclusion
We provide a variety of Automation Testing Tools that cater to various sorts of testing. Some of these tools are free to use, while others require a licence. Yes, the tool you choose will always be determined by your needs, but we hope that the following list of test automation tools will assist you in making your decision.