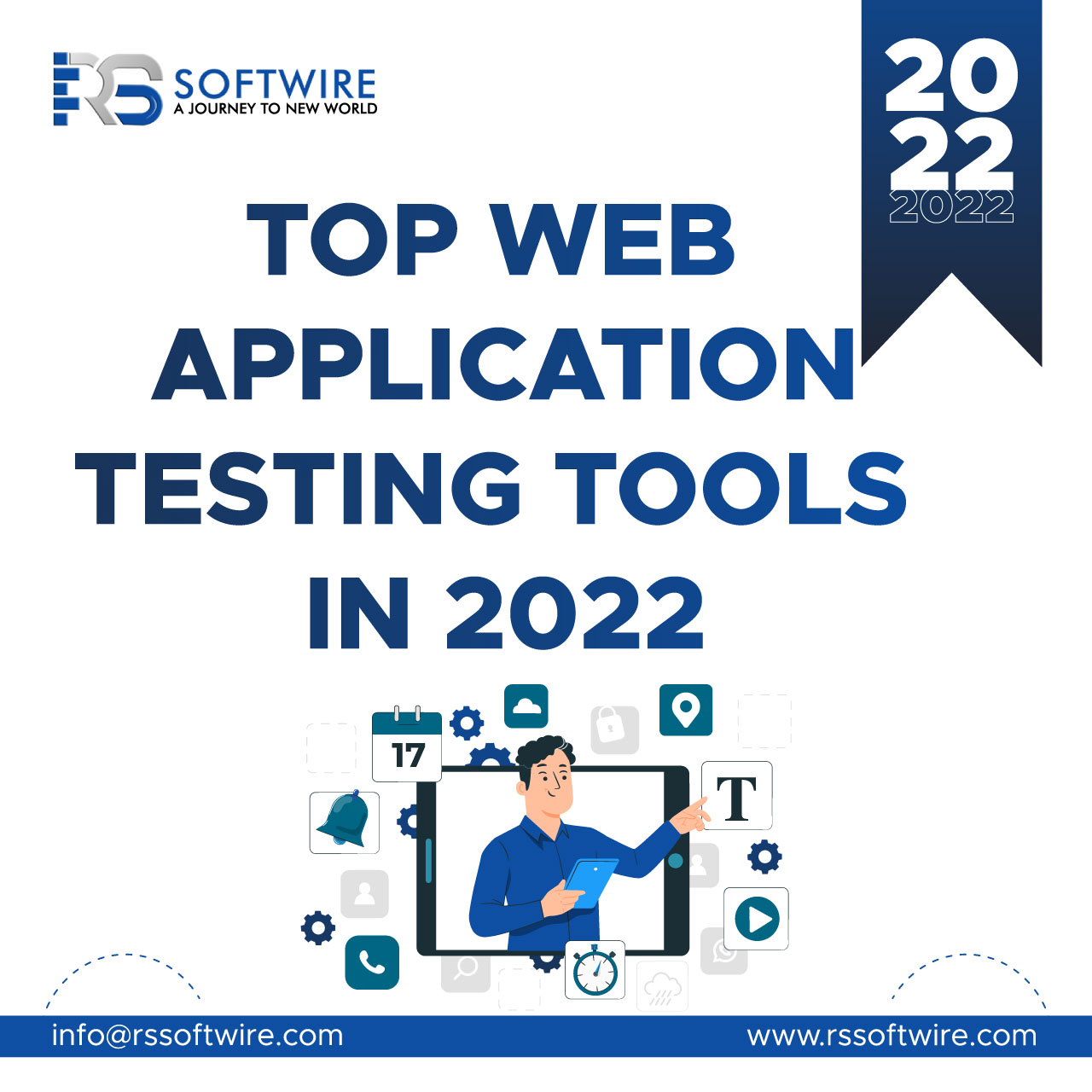 Top Web Application Testing Tools In 2022 Comprehensive List
In this article we'll learn about the web application testing tools as It's a web application testing approach that focuses on apps that are hosted on the internet. Issues such as website functioning, security, accessibility, usability, compatibility, and performance are discovered during web application testing before the online application is published to the public. Today, we've attempted to include practically all major Online Application Testing tools that are used to identify faults in any web application in this lesson.
Top Web Application Testing Tools
From all of the categories, these are the best Web Testing tools.
1) WebLOAD
WebLOAD is a large-scale load testing tool with scripting features that makes complicated scenarios simple to test. The tool gives a detailed study of your web application's performance, identifying problems and bottlenecks that may prevent you from meeting your load and response goals.
WebLOAD includes built-in interaction with Jenkins, Selenium, and many other tools to provide continuous load testing for DevOps. It supports hundreds of technologies, from web protocols to corporate applications.
2) Astra
The Pentest suite from Astra is a complete web application penetration testing tool. It combines automatic vulnerability scanning and manual penetration testing to provide you a thorough picture of your web app's security posture and help you address any threats.
Features:
In the OWASP top 10, SANS 25, there are over 3000 tests looking for CVEs.
Constant scanning
Manual pentesters guarantee that there are no false positives.
Examines single-page applications and progressive web apps.
Examine the pages that are visible only to logged-in users.
Support for intensive remediation
Certification that can be verified by the public
3) Acunetix
Acunetix is a completely automated web application security scanner that discovers and reports on over 4500 vulnerabilities in online applications, including all SQL Injection and XSS variations.
The Acunetix crawler can audit complicated, authorised apps since it supports HTML5, JavaScript, and single-page applications.
Advanced Vulnerability Management capabilities are baked directly into the heart of the software, prioritising threats based on data in a single, consolidated view and integrating the scanner's results into other tools and platforms.
4) Netsparker
Netsparker is an automated web application security scanner that detects SQL Injection and Cross-Site Scripting vulnerabilities in online applications and web APIs.
Netsparker checks the detected vulnerabilities in a unique way, ensuring that they are genuine and not false positives, so you don't have to waste hours manually checking the vulnerabilities once a scan is completed.
It's accessible as a Windows application as well as an internet service.
5) LambdaTest
LambdaTest is a scalable cloud-based cross-browser testing tool for cloud infrastructure that supports all websites and web apps.
With support for manual, visual, and automated testing, the LambdaTest platform ensures that your web app elements (such as JavaScript, CSS, HTLM5, Video, and so on) appear flawlessly across all desktop and mobile web browsers. You may use LambdaTest to test up to 2000 different combinations of desktop and mobile browsers in the cloud.
6) TestComplete
TestComplete is a user interface automated testing solution that lets you build and execute tests on any desktop or mobile web application, including those with custom controls and dynamic pages.
With TestComplete's robust object identification engine, you can make sure your web UI tests don't break. Over 50k object characteristics are available across more than 500 control kinds.
Run a single UI test in each of the main web browsers. In the on-demand cloud lab, you may access over a thousand browser, OS, and resolution settings.
7) Digivante
On online platforms, Digivante sets the standard for digital quality. They're a premier quality assurance service provider that offers unrivalled coverage, speed, and quality for retail and ecommerce organisations. They help companies innovate and evolve by providing continual quality assurance.
Functional, Usability, Regression, Exploratory, Test Automation, Team Augmentation, Agile & DevOps, Usability, Localization, Accessibility, End-to-End, Post-Release, Integration, Performance Payment, Systems, User Acceptance & User Experience, Mobile, Live Monitoring, New Functionality, and Writing Test Cases are some of the testing capabilities it offers.
Benefits:
Testing is available 24 hours a day, 7 days a week, and is tailored to your project's requirements.
There are tens of thousands of worldwide testers in 149 countries.
Hundreds of real-world device, browser, and operating system combinations are covered.
The Digivante Portal allows you to access all of your flaws, including photographs and video proof, in one convenient area.
JIRA and other test management solutions can be integrated.
8) Avo Assure
Avo Assure is a functional testing solution that automates the creation of test cases for any mobile or desktop online application.
You may do the following with Avo Assure:
Because object identification works flawlessly, you can rest certain that your web tests will run smoothly.
Execute test cases on numerous web browser versions, operating systems, and settings.
9) Bird Eats Bug
Bird Eats Bug is a browser plugin that takes screenshots and records screens with useful technical information. Bird Eats Bug gathers console logs, network queries, browser information, and more, allowing QAs to reduce back-and-forth with developers and report defects much more quickly.
Auto-include general information (browser/OS, URL, etc.) and technical logs in each report for less repeated effort.
More context Use a microphone or a video recorder to communicate desired behaviour.
Fix bugs more quickly Get thorough, repeatable issue reports immediately in Jira, Trello, Github, and other project management software.
10) Experitest
With automatic or manual cross-browser testing solutions, you can easily test your website and web apps across 1000+ desktop and mobile browsers in the cloud.
Try it out in any browser.
Perform Selenium and Appium tests across a wide range of browsers, versions, and operating systems.
Debug and interact with your app in real time.
Hundreds of tests can be run in simultaneously.
Integrate with your existing CI/CD process.
Visually assess the responsiveness of the user interface at various resolutions.
Screenshots, videos, and log files are included in the visual test reports.
11) test IO
Test IO Crowd test your online apps and websites in real browsers, on real devices, and under real-world settings to ensure that they operate everywhere. With test IO's crowdtesting, you can tap into the expertise and insights of thousands of testers to improve the quality of your online apps and websites.
Over 200 customer-focused companies rely on test IO's strength and flexibility to provide high-quality software quicker.
Features:
Expand your coverage to hundreds of devices, platforms, and actual people in real-world scenarios by testing on real devices. Make sure your programme is compatible with all devices, operating systems, and browsers.
Get feedback from actual people our experienced testers will look at your product with a fresh and unbiased view. Bugs that your internal team could miss are discovered by testers.
Release more quickly "Human-powered" does not imply "slow." With on-demand, flexible testing that scales up with your needs, you can eliminate the QA bottleneck.