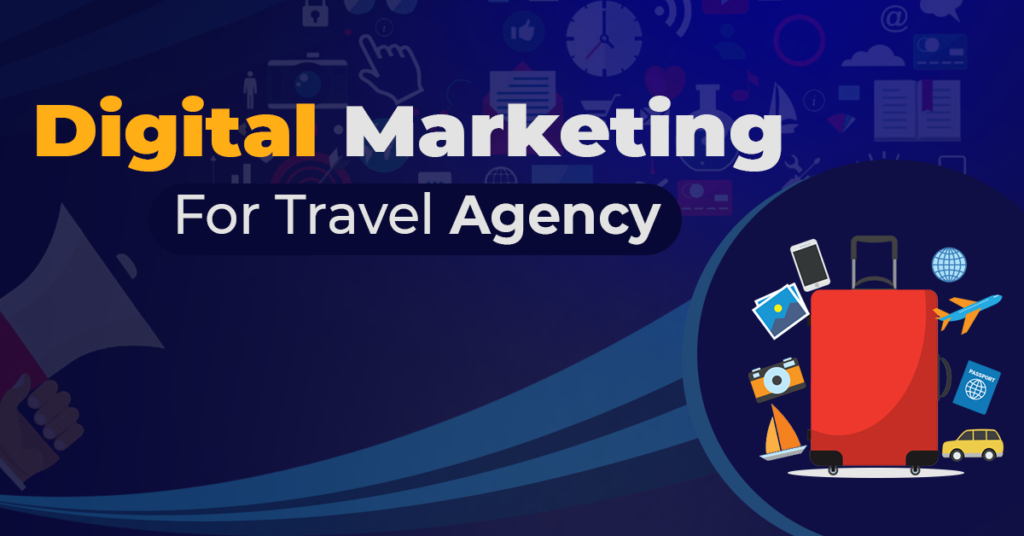 4 EFFICIENT TECHNIQUES FOR DIGITAL MARKETING FOR TOURISM AGENCIES TO GROW YOUR TRAVEL AGENCY ONLINE
It's crucial to keep everyone's attention if you want to succeed in the global tourism industry, one should know about digital marketing for tourism agencies where the number of newly founded travel companies is almost equal to those that are closing their doors. Once people start paying attention to your travel agency, you need to use every online and physical channel at your disposal to establish a long-lasting, personalized relationship with them.
How can you take advantage of online marketing potential to their fullest?
This post will teach you more about maximizing your outcomes as a travel agency, raising the conversion rate of website visits, and lowering your marketing expenses! Here's how to get started:
1. CONSTRUCT A MODERN WEBSITE
Boost the speed of your website
We all understand how crucial it is to show prospective consumers the most stunning images of the locations or hotels in your portfolio, but what if we told you that the viewer's experience can be harmed by the images' big size? Making ensuring your website's photos are no larger than what is necessary for a proper desktop display is our first piece of advice (about 300-400kb size for full width, if possible, and definitely not more than 800kb for full banners).
When we discuss a website's loading speed, we actually refer to the few seconds it takes for all of a page's content to fully load. Given that it will only last a few seconds, you may be asking why you should give this component so significant attention. Learn that the majority of visitors are prepared to wait up to 3 seconds for a page to load before leaving it, according to recent surveys. Additionally, roughly 50% of Internet consumers anticipate a website to load in under 2 seconds. Therefore, a slow-loading website will result in a higher bounce rate, which means losing potential clients to other businesses.
Google search is also impacted by load time; a research by Skilled found that a single second delay in page loading results in an 11% reduction in page views. Such a delay would cost amazon.com $ 1.6 billion in lost annual revenue.
No matter what size travel agency you represent, shortening your website's load time is an easy way to enhance user experience and even brand perception. It doesn't take long to check the loading speed of your website and make a few minor adjustments that will boost visitor numbers and, subsequently, conversions. For this, you can use Google Page Speed Insights or Pingdom to check the speed in particular areas. Google Search Console is a free tool that can be useful if you're interested in a rapid audit of your organic search engine performance.
Websites must be responsive to mobile devices
Due to the fact that mobile devices account for 52.2% of all Internet traffic in 2020, having a mobile-friendly website is no longer optional. Accordingly, you will lose more than half of your prospective customers if your website is not mobile-optimized. Additionally, this will affect the effectiveness of your Google Ads and your Search Engine Optimization score.
A website should look and function flawlessly on any mobile device, regardless of the display size — whether we're talking about a smartphone or a tablet.
It will take time and money to make your present website mobile-friendly, but the advantages it will provide will make it worthwhile. Among them are:
It boosts the number of website visitors because Google's algorithms, which went into effect in 2015, favor mobile-friendly websites, which will elevate your ranking in the search results.
It enhances user experience since it raises the likelihood that a visitor will become a customer by creating a well-organized website with easy-to-navigate content.
Competitive edge over rivals: a mobile-optimized website will make your brand stand out, increasing the likelihood that users will remember your name.
Facilitate users' access to important data, such as office hours, location, and contact information.
The amount of referrals rises because 57% of users indicate they won't suggest a company with a subpar mobile website.
It increases your chances of connecting with your target market because most people use mobile devices to browse social media, hence the majority of traffic from this source will be mobile. If you have a solid social media strategy, which is crucial in any business, it is imperative that any potential clients who use this channel have a positive experience across all of your platforms. Additionally, mobile platforms allow you to conduct targeted campaigns with exclusive placement in settings like Instagram Stories, which are incredibly efficient for raising awareness and engaging users at a cheap cost when compared to other marketing channels.
The modern consumer is always online and eager to obtain the information they require, therefore a website designed to meet their demands must be quick, safe, immediately available from mobile devices, and packed with helpful information.
2. CONTENT MARKETING IS SUPREME
nudge clients to provide content
User-generated content (UGC), whether it be in the form of images, videos, or writing, is a useful tool for any brand, regardless of the size of your company. The travel business is among the luckiest in this regard, and travel firms should take advantage of the fact that most travelers want to share the experiences and places they have been with their online connections.
A 2017 UK survey found that 57% of Millennials had booked trips based on social media posts from friends, and 97% of Millennials say they would share a pleasant travel experience on the platform.
Create a corporate Blog
HubSpot claims that businesses with blogs receive 55% more traffic to their websites. A blog not only attracts new clients to the travel agency, but the posts will also aid in establishing the authority of your brand online by showcasing the skills of your staff.
While many travel agencies have blogs, the majority do not fully utilize their capabilities. A content promotion strategy is just as important as the content itself, so make sure you have a set procedure in place to bring content to your readers via email marketing, social media, or other marketing channels. Although the content of the articles is excellent, agencies do not promote it through all available channels.
Additionally, blogs are a crucial component of SEO, especially when you use internal linking techniques and keywords specific to your agency in the content.
3. CONSIDER EMAIL MARKETING
Being the internet marketing channel with the greatest conversion rate, email marketing enables you to communicate with consumers and website visitors. You should concentrate on delivering them the proper offer because, according to a study by Epsilon, 86% of customers who sign up to get emails from travel websites are looking for unique travel discounts.
No matter what kind of material you wish to send, all emails must have the following essential details:
a. A title that will attract readers' attention is essential because it will affect how many people open your newsletter.
b. The travel company's name in the sender field.
c. Contact details – It's important to provide details like your phone number, address, and links to your website and social media accounts so that clients can reach you promptly whenever they need to.
d. Images – Include pictures of the hotels as well as the destinations in your portfolio. These photos must also be appropriately optimized, much like the website, to prevent longer upload and display times.
e. A Call to Action – Inspire your readers to take an action, such as making an online vacation reservation, visiting your website for further information, or reading your blog for more specifics.
Understanding your audience is essential to developing an effective email marketing plan that will convert them into devoted customers by sending the appropriate content at the appropriate times.
4. MARKETING ON SOCIAL MEDIA
Social networks are crucial for marketing tourism. Unlike any other marketing medium, they enable you to communicate with current and potential customers in a unique way. You can get to know your customers and establish enduring relationships with them thanks to the diversity of platforms that are available. Additionally, a growing number of people base their decisions about where to go on their next holiday on what they have seen on social media, thus this could also be a favorable atmosphere for you to acquire new potential clients.
What are some uses for social media?
Promote deals and occasions: The easiest approach to let people know that your company is attending a tourism fair or information trip is through social media. Regardless of the sort of offer—early booking, last-minute, holiday promotions, etc.—you can also advertise it here.
Encourage your customers to talk about you: After a trip, you may invite them to leave a review on your Facebook page or upload a photo to Instagram with a mention of your agency account. These actions act as PR for your company and draw in new customers.
Create contests: Contests are a great method to increase your fan base and find new customers. You can utilize these competitions to get user-generated content, grow your newsletter subscriber list, or grow your fan base on other social media platforms.
Platforms like Facebook, Instagram, and YouTube are most suited to advertise the services of a travel agency because, when it comes to the tourism business, the decision to take a trip is frequently triggered by a visual element.
SUGGESTIONS FOR STRATEGIES YOU SHOULD TRY
Showcase popular travel spots and resorts on social media.
Post deals or offers.
Create a competition.
Send forth informative travel articles or movies.
To share the expertise of your staff, use social media.
The unusual travel experiences your crew has had will give potential customers more faith in your company and your products. Additionally, social media platforms like Facebook and Instagram offer powerful targeting tools that make it simple to connect with your ideal client. For example, you can simply connect with travelers who are interested in a specific location or frequent travelers.
These are, in essence, the initial strategies that we believe are crucial for promoting a travel agency. Regardless of the size of your company, you must promote your services to prospective clients. Use the above-mentioned tips to successfully reach your target audience, and once you have their attention, try to provide them with helpful travel advice and expertise rather than bombarding them with offers in order to earn their trust and encourage bookings.