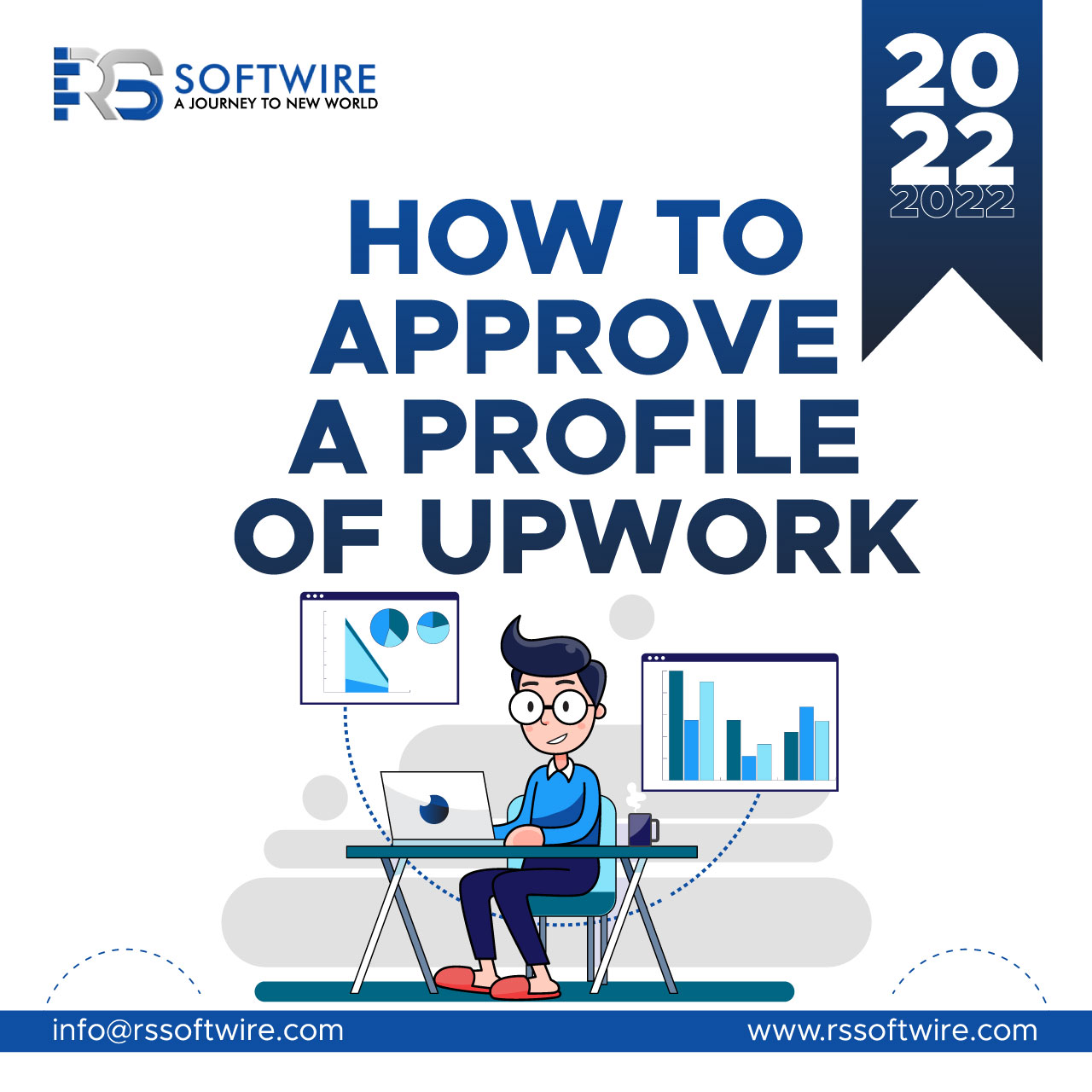 How to Get Your Profile Approved on Upwork
These days, Upwork requires that you first have your profile approved, but the main question arise is how to get your profile approved on Upwork. If I talk about my experience, since 2016, I have been finding clients on Upwork, which has been a fantastic source of recurring work for me. Since I've had the best reviews for a long, I frequently receive invitations to apply for new positions. But since I joined more than three years ago, Upwork has transformed. You could just sign up, create a profile, and begin seeking for work back then.
How to Get Your Profile Approved on Upwork
Personal narrative
One of my friends chose to build an Upwork profile, I was completely unaware of this move. She expressed interest in beginning her freelancing career, so I advised her to check out Upwork. She texted me a few days later to inform me that her Upwork profile had been rejected. This, according to Upwork, was brought on by a dearth of chances in her area of specialization.
I should mention that my acquaintance has over 10 years of project management expertise. So it's obvious that Upwork didn't reject her because of a lack of knowledge or abilities. She simply didn't express what she had to offer when she created her profile. She was able to enhance her profile with a few straightforward changes, submit it again, and Upwork quickly accepted her.
Why is my profile being rejected by Upwork?
Upwork estimates that the platform receives about 10,000 new signups each day. Many people want to be on Upwork because it gives them access to more clients than any other job board or freelance website. But what actually happens is that there is an oversupply of freelancers on the market. Many of these people also lack the necessary abilities or aren't committed to freelancing.
Upwork developed an algorithm to perform the candidate screening process because they are unable to manually approve or reject 10,000 applications every day. The approval procedure, in my opinion, is a wonderful thing, and I appreciate Upwork implementing it.
Clients will naturally take you more seriously now that you have been given permission to look for work on the site. Additionally, you'll have much less competition when hunting for work. Additionally, it's not the end of the road if your profile is rejected. You can take a few extremely calculated actions to increase your chances of getting approved the following time.
How to get your Upwork profile authorized
Please don't give up if your profile has been rejected in the past. It doesn't mean you should give up or that you are unfit to work as a freelancer. You simply need to be aware of what qualities Upwork is seeking in potential freelancers. The following seven steps will help you get your Upwork profile approved:
1. When registering, use a professional email address.
Your email address will be required for creating an Upwork account. You'll also notice right away that Upwork likes corporate email addresses. In fact, you will receive a notification similar to this one if you attempt to use anything else:
Why is a business email address important? It matters since Upwork is seeking for qualified independent contractors. So creating a business email account is a terrific approach to demonstrate to Upwork that you're committed to freelancing. Fortunately, setting up a business email account is simple. I advise spending five minutes using Gmail to create your own.
2. Select the most subcategories possible.
The categories and subcategories you want to search for work in can be chosen after you sign up with Upwork. I advise selecting as many subcategories as you can because you can add up to 10.
A wide range of subcategories demonstrates to Upwork that you are qualified to apply for a wide range of positions. It demonstrates to them that you are a more versatile freelancer and that you will work well with a range of clients. Uncertain of the options for your subcategories? See my own here:
3. List all of your qualifications.
You will then enter all of your skills. You can select up to 10, and like before, you should select each ability you believe to be pertinent.
I advise you to avoid overanalyzing the skills portion. Pick 10 of the suggested abilities that Upwork will present to you before continuing. This can always be updated later. To discover which abilities other freelancers chose, you can look at their profiles if you're truly having trouble.
4. Complete the overview section.
The overview part resembles your Upwork "about me" page in certain ways. You describe who you are, your experience, your qualifications, and what you can offer in this section.
Additionally, it will be the first thing visitors to your page will see, so it must be effective. So don't cut corners in this section, is my recommendation. Give it some serious thought, and make sure there are at least a few paragraphs in it. Format it so it's not just one giant block of text and is simple to read and skim. Look to my summary below:
5. Create a title that is specific.
It's time to think of a title now. Your title should be a brief statement that encapsulates your complete professional background and what you hope to give clients. No pressure, though, right?
I am aware that coming up with a catchy title might be difficult when you are unsure of what you want to do. I would attempt to focus on the kind of work you believe you would enjoy doing and begin there. For instance, "Personal Finance Writer/Blogger" appears in my headline. However, you may choose something like "Freelance Blogger for Small Businesses" if you don't yet have a specific specialization in mind.
6. List all of your previous employment and education.
My career history and educational background were difficult for me to complete when I first started using Upwork. Mostly because I hadn't finished college and had only a few jobs under my belt before then.
I was strongly inclined to skip through those passages because of those reasons. However, I made my best effort because I knew that if I left anything out, it would appear worse. Incorporating some of my volunteer experiences was one of the things I did to strengthen this part. For instance, I briefly volunteered for a few different groups in Kansas City and sat on the board of directors of my church. In my profile, I thus listed all of those experiences.
I also included information on my college experience. I only mentioned my major and the school I attended, then I stopped. And not a single person has questioned me about it since then. I initially set my hourly fee at $8 when I first joined Upwork. That was around what I had made when working at Starbucks, so I reasoned that it would be a fair starting pay for a freelancer as well.
The following is what $10 an hour or less tells Upwork and potential clients:
You essentially lack experience.
You don't possess many skills.
You lack faith in your capacity to satisfy customers.
You are unable to make excellent work.
Take yourself seriously because I'm assuming that's not the impression you want to make on potential customers. Don't exaggerate your skills, but also don't downplay them. The absolute minimum hourly wage I would advise is $30. Additionally, your rate ought to rise as you gain experience.
last thoughts
Hopefully, this post has showed you that you can get your Upwork profile authorized with a few easy changes. My final recommendation is to avoid overanalyzing this procedure. Don't spend hours looking up advice on how to write the best profile summary or how to think of the ideal title. Just try your best, then carry on.
You can always return and edit your profile at a later time. You can always change your profile and reapply if it is rejected. You must enroll in my free training, How to Use Upwork as a Freelance Writer, if you want to learn more about how to locate clients on Upwork. You will learn five things about how to begin working on Upwork during this free webinar. So if you're prepared to launch your freelance writing career, it will provide you with the resources you need to get begun. You may register here:
FAQ
How do I know my Upwork profile is approved?
Please be aware that you can attempt to submit a proposal to see if your profile has been approved on your end. Your profile has been authorized if you can submit proposals!
If your profile is verifiable and correct, Upwork will normally approve it in less than 24 hours. You can then start working.
How do I activate my Upwork account?
Simple steps to activate your Upwork account.
Access Upwork.com and select "Sign Up."
Use your company email address, an Apple ID, or a Google Account to register.
Include your personal data
Tell us about your work when you first create your Upwork profile.
your educational background in detail
Describe your prior employment experience.
Include your language ability
Decide on an hourly wage.
List your name and a summary.
the profile picture
Include contact information
Before submitting, check out your profile.
Start a freelancing career on Upwork
Why is Upwork not accepting my profile?
They strive to maintain a balance between the number of freelancers and open projects despite receiving over 10,000 applications every day. If their market doesn't now offer chances for your particular set of abilities and expertise, they won't accept your application at that moment because they want you to succeed and find work.
But don't worry, if you have more pertinent abilities or experience to add that you might not have included in your initial application, you can amend your profile and reapply. You're invited to reapply later because the opportunities for people with your expertise may change. Here, you can also learn how to raise your profile.
How do I submit a proposal on Upwork?
You can utilize Connects to submit a proposal for a project you're interested in. A excellent way to present yourself to a potential client and highlight some of your qualifications is through a proposal.
A good time to do this is now. You should also recommend a next step, such as a chat or video conference via Upwork Messages to go over the job in greater detail.
To submit a proposal
Go to the job post page and click the Submit a Proposal button.
Decide on your hourly rate or enter fixed-price jobs in a bid.
Create a cover letter that introduces the project.
Respond to any inquiry the client may have about your background.
Attach documents to your submission, such as samples of your work.
the button that reads "Submit a Proposal"