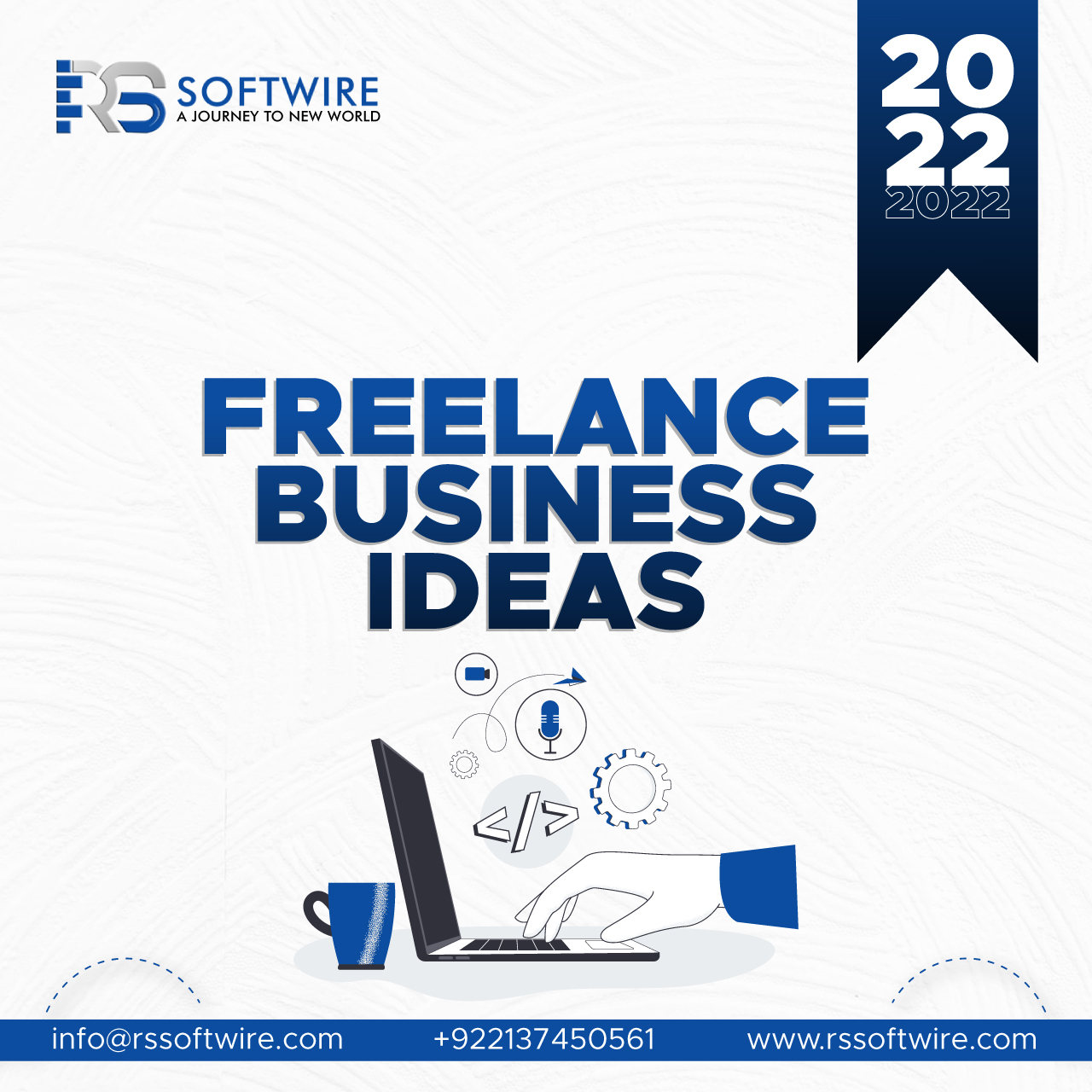 20 Modern Freelance Business Ideas You Can Start For Free
In this article, we will discuss about some freelance Business ideas as, starting a freelancing business can be an excellent solution if you've adopted WFH culture, need to supplement your salary, or have joined the Great Resignation and are now looking for more satisfying job.
Working from home, setting your own hours, and being your own boss are just a few benefits that come with freelancing. Often, startup expenditures are minimal. Additionally, you might be eligible for a small business loan for self-employed individuals if you need money to start your business. But it can be difficult and time-consuming to launch your own freelancing business, and it might take some effort before you start to see any substantial financial gains.
20 Modern Freelance Business Ideas
Here are some home-based small company ideas to get you thinking about how to effectively utilise your skills and exercise your entrepreneurial muscles if you're up for the challenge.
1. Photographer
You might be able to make money off your creativity if you have an excellent eye and a good camera. Selling your photographs to stock photography websites like Getty Images or Shutterstock is one alternative. You may offer to take headshots or portraits in your yard or set up a home studio if your house is exceptionally gorgeous. You can advertise your services to those who require expert photography for weddings, graduations, engagements, or other events if you are interested in event photography.
2. Web Designer
You might love working as a freelance web designer if you are both creative and technical. Typically, a web designer creates every component of a website, including the visuals, typefaces, and layout. You'll probably need to have some familiarity with fundamental programming languages like HTML, CSS, and JavaScript, as well as with image-editing programs like Photoshop. These programs can be learned either by classes, practice, and study. When you're prepared, you can build your own website to promote yourself to potential customers and display your expertise.
3. Graphic Designer
Almost all businesses require creative aspects, like logos, web design, memes, blog entries, infographics, advertisement banners, and more. This implies that there are several opportunities for a talented graphic designer to find freelance work. Strong sketching abilities, familiarity with graphic design theory, and proficiency with design tools are often requirements for careers as graphic designers (such as Photoshop and Illustrator). You can learn design online or through a degree program. Once you have a strong foundation in design, you may begin pitching prospective clients on your services.
4. Interior Designer
Consider taking up freelance interior design work if you love to create stunning, inviting rooms and have an eye for color and composition. To work as an interior design consultant, you don't absolutely require a design degree. Simply compile a portfolio of some of your most successful redesigns, then start soliciting recommendations from your friends and family.
5. Video Editor
You can find yourself in demand if you have experience editing videos and are searching for freelance work. The demand for video producers has increased in recent years due to the increasing use of video in social media and marketing. With the help of online classes and tutorials, you may improve your video editing and cutting abilities even if you don't have much prior expertise. You can work from home on a range of projects as a video producer, giving you the freedom to express your ideas.
6. Digital Marketing Services
Do you have experience with SEO, content creation, and internet advertising? If so, you might want to think about launching a company that offers digital marketing services. Companies frequently require assistance managing external messaging and communication when launching new goods, including email campaigns, web advertising, and social media marketing. Additionally, since it is internet marketing, you probably won't be tied down to one one place.
7. Social Media Manager
Social media consultancy can be a suitable fit for you if you are aware of the marketing potential of interesting multimedia material. As a social media manager, you can assist businesses in figuring out how to use platforms like Facebook, Twitter, Instagram, and others to further their objectives. You might make a fantastic social media manager if you can maintain your brand identity, publish content responsibly, and engage with customers in an educated manner.
8. Data Analyst
Data analytics is being used by businesses of all shapes and sizes to comprehend trends in consumer behavior. Data analysts evaluate things like sales figures and performance using a range of analytical tools, spot market patterns, and then generate reports outlining their findings and recommending new tactics. For those that have experience working in data analytics, this can be a fantastic freelance alternative. To get the necessary skills, though, beginners can enroll in certification programmers and take online courses.
9. Email Marketing
Email marketing is essential for many businesses to stay competitive. And if you are a talented and original writer, that may be excellent news for you. Having experience in sales and marketing can be quite helpful. Professionals in email marketing must be able to write imaginative and persuading language about a company's goods, services, and promotions in order to turn readers into customers. Building email lists, keeping track of results, and managing email marketing efforts are all possible work duties.
10. SEO Consultant
In order to ensure that a company's website appears highly in online search results, SEO service providers use search engine optimization. This is because a high-ranking position typically converts into a lot of site traffic. If you're an SEO expert who is familiar with Google's algorithms and the importance of keyword frequency and meta descriptions, or if you're open to learning, you might find that a variety of different businesses are interested in hiring you to assist with their SEO content strategy.
11. Blogging
Blogging can be a successful side hustle. You might be able to sell advertising space if you can amass a sizable following; this can be a minor source of income. Through sponsorships and affiliate marketing, you can increase your income by getting paid by companies you support to promote their products and services. If you don't want to be in the spotlight, you might be able to blog behind the scenes for businesses and people, who may pay you generously by the hour or post (such as high-profile people who require a blog but don't have the time to feed the beast).
12. Copywriter
Copywriters often develop information that motivates consumers to buy goods or services. Copy can be used for a variety of purposes, including advertising, websites, billboards, email campaigns, and newsletters. As a freelance copywriter, you can be writing original blog posts that are search engine optimized or coming up with appealing taglines for online or print advertisements. Freelance copywriters have the option of working with clients directly or using middlemen like agencies or online work exchanges.
13. Event Planner
Event planning may be a fantastic fit for your freelance business if you enjoy arranging parties for your friends and are a master of organization. An event planner makes sure that occasions like gatherings, weddings, fundraising events, meetings, and conventions are properly arranged, planned, and carried out. Finding suitable venues, arranging any services required for the event (such as food, transportation, and entertainment), and being present on the day of the event to ensure everything goes according to plan and that everyone has a good time are typical duties of the position.
14. Tutor
Perhaps you have a natural aptitude for arithmetic, or your essay grades have always been A+. Or maybe you're a talented pianist. There are probably others out there who could benefit from your expertise in whatever field it may be. You can start by telling your friends, family, and neighbors about your tutoring or teaching services and expand from there.
15. Pet Sitting
If you appreciate animals, pet sitting enables you to do so without the hassle of ownership. Typically, all you need to get started is knowledge of correct care for canines and felines (or any other pets that may need your services). Many people may find this freelance position to be beneficial on both counts: you get to get to know the animals and get rewarded for providing some extra care.
16. Selling Your Crafts
Do you enjoy making crafts or other handcrafted goods? You name it—quilts, throw pillows, hand-knit sweaters, jewelry, etc. If so, you might be able to advertise your products on a website for selling handmade goods, such as Etsy, Handmade at Amazon, or ArtFire, and convert your pastime into a side hustle. You could want to utilize possibilities to sell at street fairs, bazaars, and festivals in addition to internet sales.
17. Transcriber
If you can type quickly and accurately, you might want to think about working as a freelance transcriber. When performing this type of work, you must first listen to an audio recording, such as one from a webinar, video conference, interview, or speech, and then type every word that is said into a document. Many different businesses use freelance transcriptionists, and transcription services also employ people to transcribe audio for a variety of clients.
18. Beautician
You normally have a lot of flexibility once you acquire your cosmetology license in terms of where and when you can work. Who says you have to spend the entire day in a salon? Numerous mobile services are provided by hair stylists and makeup artists that operate for themselves and serve clients in their homes. Or, you might provide your services from home. To create an additional cash source, you can also start a blog about your hair or makeup or upload instructions to YouTube.
19. Game Development
Google Trends indicates that the video game business has been expanding for a while. Fortunately, this implies that positions for animators, modelers, animators, and designers of video games are becoming available everywhere. For individuals interested in a career in gaming, the next five years appear promising. Here is all the information you require to work as a game developer.
20. Translation Services
More than ever, the economy is a global one, increasing the demand for translators. You can find work interpreting business concepts, documents, and other materials if you speak English, Spanish, Chinese, French, Arabic, or another important language spoken around the world. There are literally hundreds of freelance, remote translator jobs available right now on Fiverr. If you want to find additional remote work to complement your current endeavors, go through these top remote job websites in 2020 to find the finest chances for you.
Getting Your Business Started
Having a good idea is just the beginning of launching a freelance business. Making a company plan is an excellent next step. This entails choosing the aim of your business, defining what services or goods you will provide, and establishing quantifiable objectives.
If you require startup money, you might also want to research your alternatives for business financing before making a budget for your company.
It's a good idea to pick a business structure (like a sole proprietorship or limited liability company), obtain any necessary licenses or permits, and buy any necessary equipment and supplies. Just make sure to keep your receipts because these costs might be deductible as self-employed business expenses.
FAQ
What is the best freelance business?
7 Well-liked Freelance Business Concepts You Can Start Today
1) Brand Identity Designer
Businesses are more visible than ever to customers, and they consistently need to promote themselves and maintain their brand image across all platforms. If you have a knack for designing and story-telling this could be a perfect fit for you. Through your creativity, you can help a brand present themselves beautifully and make a strong online presence.
This is more than just designing logos and graphics. You will be required to ensure all aspects of branding – color scheme, logo, font, graphics, etc. and most importantly work with the brand to form a coherent and cohesive message that tells the story the brand wants to portray. The most popular freelance platforms to get this kind of work are Toptal and 99Designs.
2) Instagram Marketer
Do you want to earn money by spending the entire day on Instagram? Instagram has changed in 2018, and it appears like everyone is embracing the changes. Businesses can engage in direct marketing by using Instagram stories and live videos to connect with their audiences.
Businesses are always looking for freelancers that are eager in discovering the ins and outs of the platform. In order to expand their business in 2020, Instagram marketers will need to preserve their brand's identity and develop interesting content strategies. Instagram alone is the best freelance marketplace for this. Instagram has become freelancers' new best buddy.
3) Expert in content marketing
The marketing environment has changed because of the internet. Businesses must develop techniques to break through the clutter and connect with their intended audience in the face of all the adverts, pop-ups, and offers. Only with useful material are they able to do this effectively.
According to a research piece, content marketing generates more than three times as many leads while costing 62 percent less than outbound marketing. This suggests that there is a tremendous possibility for those with a talent for writing to offer tremendous value to business owners.
4) Video/YouTube Marketing
Did you realize that YouTube receives 400 hours of video per minute? If you excel at storyboarding, video editing, scriptwriting, and video production, business owners of all stripes will be clamoring for your services.
5) Facebook Ad Campaign Manager
Recently, Facebook passed the two billion monthly active user barrier and has since grown to become one of the most popular online advertising networks, with more than six million advertisers spending $10 billion each quarter.
Businesses will be lining up at your virtual doorstep pleading with you to accept their money if you comprehend click-through rate and cost per action or if you can target the correct audience at the right price. If you have any experience in marketing, this is without a doubt one of the best freelance business concepts.
6) Search Engine Optimization Expert
An SEO specialist is essential to businesses as they grow and use web traffic to draw in new clients. A significant sector called search engine optimization, or SEO, has grown in recent years as a result of the growing influence that search engines like Google have.
Companies are turning to an expert in specialized marketing, the SEO specialist, to help them achieve this goal of improving their positions on Search Engine Results Pages (SERP). High-quality website design, development, and promotion are the responsibilities of SEO specialists. SEO experts are more frequently a consulting authority than they are website builders.
7) Email Marketing Specialist
Email marketing is still very common despite the social media veneer. It continues to provide businesses with one of the finest returns on investments. Email marketing is used by more than 95% of businesses today that use automation. As a result, freelancers who can create audience segments, engage an email list, and boost clicks and opens stand to make more money.
What is the highest paid freelance job?
The 10 best and highest paying freelance jobs
If you've been thinking about starting up a freelance business, you've come to the correct place. The top 10 most sought-after, highest paying freelance jobs as of right now are listed below. You're already more than halfway there if you possess some of these abilities.
1. Web designer or web developer
On freelance marketplaces like Fiverr or Upwork, there is no shortage of work to be found if you have some experience with WordPress or Joomla. But you should check out Toptal if you have advanced talents. Although there is a very rigorous screening process to get featured on Toptal, the income is substantially higher and the clients are frequently well-known figures.
2. Graphic designer
While many graphic designers have degrees or credentials, an equal number also gain their knowledge through hands-on experience. Having said that, having an Adobe Certification may make you more appealing to some clients. You'll need a strong portfolio, for sure, but the majority of potential employers are more interested in the work you do than in your educational background. You'll get far with a great portfolio, a solid skill set, and one or two specialties.
3. Teacher
Whether or not you possess a teaching degree or other credentials, there are literally thousands of online teaching positions accessible. It would be ideal if you did. Since there is a severe shortage of instructors worldwide at the moment, it's likely that you won't have any trouble finding a job you like.
There are several choices available even if you lack a teaching degree. There is a great demand for English as a second language (ESL) teachers, and you don't need a lot of expertise. A solid command of the English language and some familiarity with web technology are frequently the sole requirements.
4. Virtual assistant
Are you amazingly organized? able to finish chores quickly? able to work with a variety of productivity programs? If so, you might be a good candidate for a freelance virtual assistant (VA) position. The majority of VAs are hourly workers, and their pay ranges from $15 to $25 an hour or more, depending on the demands of the client and the particular expertise needed.
In addition to managing email and phone conversations, tasks can also include data entry, bookkeeping, research, social networking, content production, booking trips, and scheduling appointments.
Work as a virtual assistant is a terrific way to start a freelance career. It goes without saying that you don't absolutely need a tone of experience to start, but the more you can accomplish, the more valuable your services become.
5. Freelance writer
The fact that you don't need a lot of equipment to start writing as a freelance online job is probably its best feature. You can produce and deliver your work with Microsoft Word or G-Suite pretty much anywhere—at home, on the go, or wherever the four winds take you.
The highest paying writing is usually technical or medical, but you can still make a respectable career by writing blogs or website copy.
6. Editor
Editing is a decent side hustle. You'll have no trouble finding employment proofreading and copyediting articles that other people have written if you have a strong knowledge of the English language, grammar, spelling, and writing style. Even if landing freelance writing gigs is ultimately your aim, editing is a great place to start.
7. Accountant/financial consultant
Another potential freelance market is financial advising, particularly if you've had some success, have experience working with respectable financial institutions, or have a particular expertise in real estate, insurance, or tax planning.
You can handle accounts for multiple clients at once using software like QuickBooks Online. The work is virtual, thus geographic limitations do not apply to growth.
Consider creating an online portfolio with some samples if you're looking to work as a freelance social media professional; don't forget to include a list of your accomplishments and the supporting data. After all, analytics are what social media is all about.
9. App developer
If you're passionate about making apps, going freelancing might be the best thing you've ever done for your career. The demand for iOS and Android development talents is very high, and as your skill level increases, so does your potential income.
You'll require a strong portfolio, a tone of original ideas, and a resume that highlights your accomplishments. Results that can be measured say a lot about your abilities, so don't be shy about flaunting them.
10.  Content creator
The ability to take photos, shoot videos, edit them, write screenplays, and produce a polished final product are all necessary for content creators. Businesses looking to hire independent content producers are looking for creative talent that can amplify their brand and message.
Is freelancing difficult?
In actuality, freelancing is quite difficult. Contrary to popular belief, registering on Upwork and sending a tone of applications each day won't work.
Working for yourself is hardly a ticket to a simple existence. It has advantages, but it also has drawbacks.
While some people can manage these situations well, others cannot. The difficulty of freelancing for you may be influenced by your personality, working style, and capacity for coping with unpredictability.