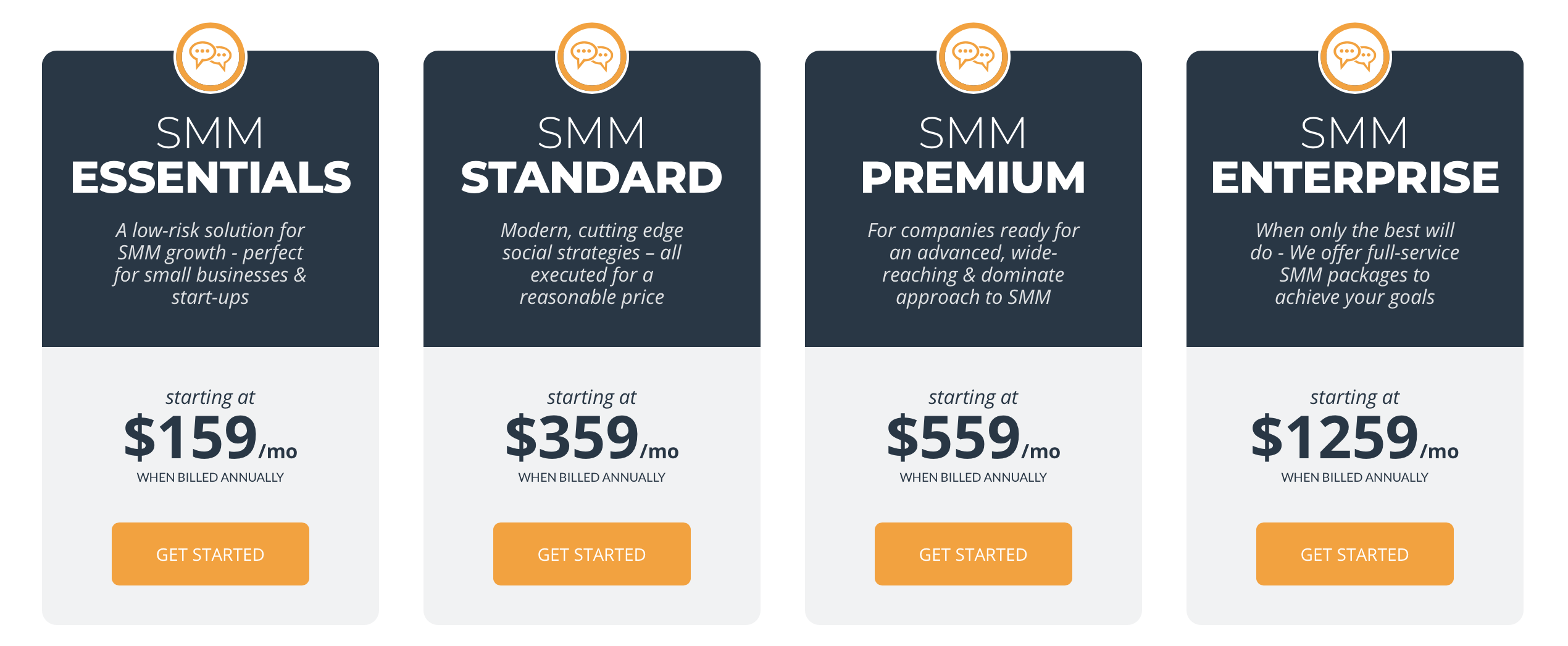 How To Create Best Social Media Marketing Packages For Your Clients
In this article we look at how to structure and sell social media marketing packages that your clients will love so that you can scale and grow business into a successful social media agency. We are going to cover one why it's important to offer different social media packages and two how to create tiered packages that sell three key example of packages that successful media agencies offer and lastly how to create custom packages tool and specific customers plus the proms and cons of featuring pricing on your site.
Social Media Marketing Packages
Social media college we recommend that business looking to scale from either freelance or hourly based provision of social media services think about moving to fixed price packages the reason they say this is most, because businesses prefer the consistency of what fixed price packages include.
It means that both parties know what to expect and how much time will be dedicated on weekly basis and for the client what their weekly or monthly spend will be and notice that we keep saying social media packages, not social media package. That's because offering a range of services at different price points makes your offer attractive to different businesses.
Depending on their size and what they need by including standard services in each of the packages. You can predict how long tasks will take and how much profit you'll be making per client. It will also make up selling packages much easier, meaning you generate more revenue for your business, but how do you create packages that your client needs before you do anything else.
It's important to know what you want to offer and how you can grow these in a scale way, your core product might focus on the number of post that you create and share on a weekly basis with an entry level package offering 10 posts and an ultra package including 30 posts you might also consider your entry package including to social media profiles with clients.
Choosing from Facebook, Instagram, Twitter, Pinterest where as your ultra package covers up to six different platforms depending on your customers preferences.
Once you have call service defined you can add extras across the different levels of packages that you offer to deliver a variety and value. This might including
 Forming complete strategies
Reporting
 Community Engagement
Running Paid adverts and
 Engagement monitoring
Once you've created your packages businesses you can choose which on day one the most based on what's included but you can also sell these add-one as one-off purchase for example You might have a client who only wants a basic entry package, but you can sell them a paid advertising campaign and generate more income by making these add-one accessible indifferent ways.
You can upsell and cross sell to maximize your revenue streams but if you're really struggling to create and structure your social media packages. The best thing is to go back to basics and do some good old competitor research we love that word spoiler alert. We've done it for you, here are four social media agencies and the types of packages they offer first up is Changescape Web.
Who give their audience all the important information they need in a neat and effective table clever use of titles of their packages helps clients identify which one is best for them and they can strategically position their top tiered package as better value than their mid-level one increasing their chances of selling clients this instead.
Next up is bold and pop who offered both social media marketing packages as well as one-off standalone social media consulting session this tactic positions them as being able to train businesses, how to run social media channels but also as a way of giving companies to think that there's a lot of work involved in running social platforms as we all know it's not that simple.
The outcome increasing the chances of clients hiring them on retainer third on this list is brand at 360 who include high-level analytics and monitoring as standard in each of the packages that they offer this approach defines a scaling strategy on the social media platforms that they support within each package and a clever layout helps businesses distinguish the most important information in the table.
Finally we have RS Softwire. We can see that they have really narrowed their focus on social media packages and only target businesses in the every niche by offering the same services as many other social media marketing companies but including keywords related to the real estate industry they demonstrate credibility and social proof that they can help their specific target market.
While each of these four offer a standard set of services there are likely times that they'll have client who needs something a bit different as you grow you need to be more flexible for customers who have customer requirements.
Many agencies have standard packages listed on their site and include a specific call to action for businesses. Who are looking for a custom package. When dealing with bespoke packages always b clear about what is and isn't included. Clients something try to add on a post or two a week we're used to that right but that quickly takes more time you aren't getting paid for that.
While quoting prices for custom packages can be done directly with the customer many agencies often question whether or not they should feature prices on their website the benefit of this is that your competitor cannot simply offer similar packages at a lower price and you can emphasize.
The custom packages and as your business grows you can charge more packages without increasing the services included.
Things to bear in mind if you don't advertise your prices is that potential client prefer those who do they may not contact you to find out and you make it harder for them to see whether your services are right for them.
Whatever you decide make sure that any information a client needs is accessible whether on the site or by getting in touch. With so many options for structuring your social media packages make sure that you define a clear benefit to your customers stick out from the rest.
Check to see whether your pricing fits in with their current market and do some research to make sure what you offer is what businesses need spending a little more time to do this means you can hit the ground running and quickly start scaling your business and your client list. Check out customers shop on social media platforms.