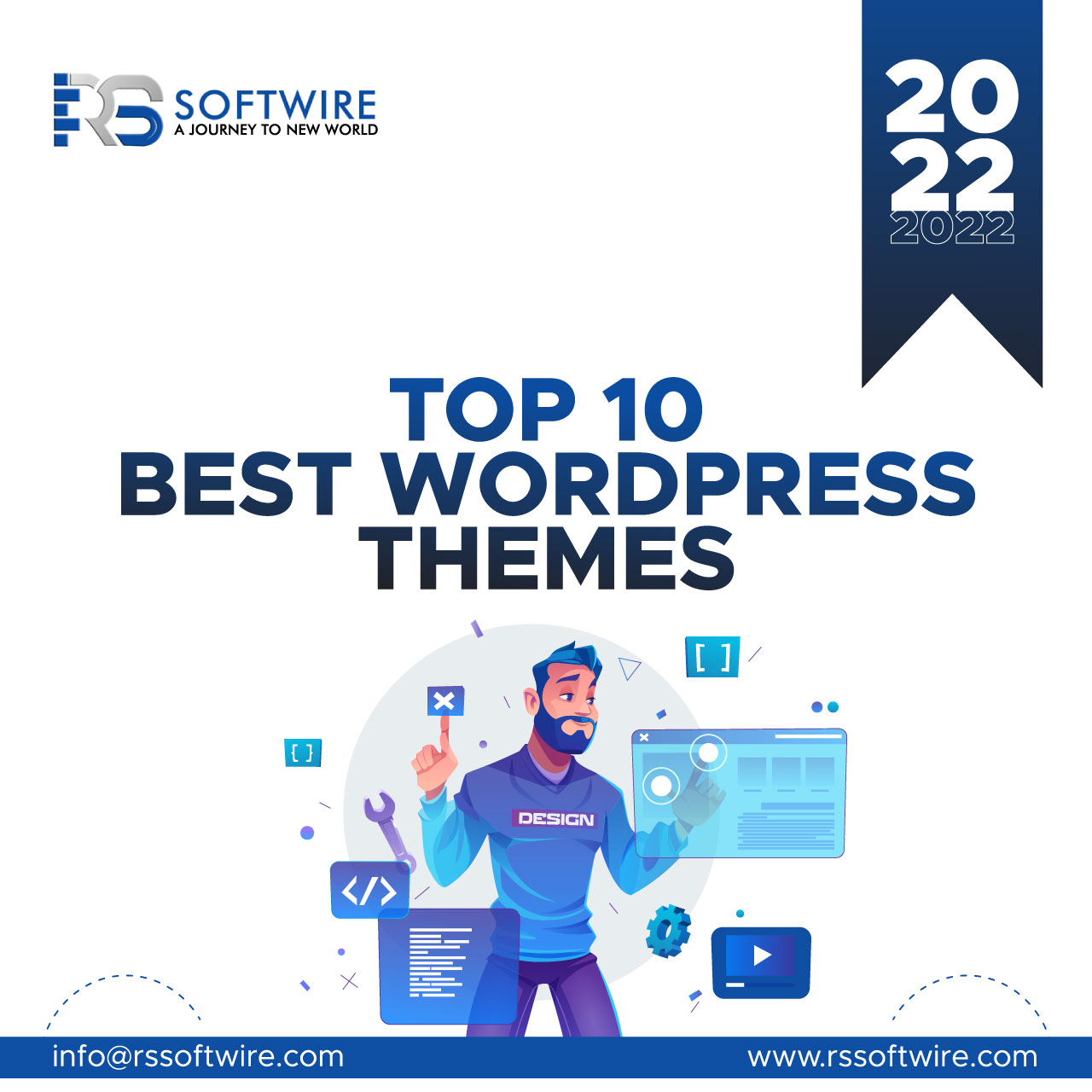 Top 10 Best WordPress themes
Every business requires a website that loads quickly and has an appealing design. The best part is that there are a plethora of fantastic WordPress themes that do precisely that.
WordPress themes use various layouts to display content wonderfully and increase brand interaction. You can have it exactly as you want it without adding a single line of code with the right style. With over 10,000 WordPress themes accessible, newcomers can struggle to discover the perfect WordPress theme for their requirements. Users also ask us if there is a single WordPress theme that covers all use-cases. Yes, the answer is YES. A common multipurpose WordPress theme can be used on almost any type of website. Choosing the appropriate theme will make a significant difference in the success of your blog or website. We have picked the best WordPress themes for 2021 in this post.
This article's main foremost goal is to limelight the finest and most famous WordPress themes. So, focusing on your specific case, you can choose the one that best meets your requirements.
WordPress themes
Divi
Divi is one of the most well-known multipurpose WordPress themes available. Elegant Themes, one of the world's top WordPress theme shops, developed it.
Divi includes a drag-and-drop builder that can be used to construct any kind of layout. You also get 20 pre-made Divi templates straight out of the box to help you get started on your new project. Divi enables you to save your custom templates in the Divi library so that you can re-use them as required in the future.
Although the Divi WordPress theme and its builder tool make it simple to create your exclusive custom designs from the start, the growing library of pre-built page templates lays the groundwork for your layouts. These templates cover various scenarios, including several homepage layouts and all of the necessary pages for any successful website. Divi also has full ecommerce support, making it an excellent option for online stores.
Astra
We just have to begin somewhere, and WordPress themes are no exception. Where do you even start? The solution lies with Astra.
Because of its smooth customization options, a significant degree of functionality, and a large number of free extensions, Astra is our best target for WordPress beginners. Astra also provides a lightweight experience, allowing it to load extremely quickly. That's not even considering the effortless customization and pre-built options for websites, portfolios, and online stores. You can get Astra for free in terms of pricing, which gives you a simple theme that will get you up and running.
The customization options are spectacular; you can change the theme, the typography, and even toggle off the title page and sidebar if you would like to. And, best of all, Astra is marketed as a fast responsive theme, which means it will load quickly and keep your viewers on your web.
Ultra
Themify's Ultra is the most solid and adaptable WordPress theme. Its efficient drag-and-drop builder makes it simple to construct any kind of website. The best part is that you get a library of 60 fully pre-designed templates with parallax landing pages and other cool features created by experienced designers.
X
X is yet another WordPress theme that can be used to build any kind of website using WordPress.This famous premium WordPress theme offers four key categories of pre-built demos to demonstrate X's multipurpose credentials. Then, within each group, there are several variants that cover a wide variety of projects. X also comes with an increasing range of extensions that bring even more functionality to your website.
Kalium
Kalium is one of the popular WordPress themes, ideal for portfolios and blogs. As they browse your well-designed, optimized page, both prospective employers and customers will be astounded. With the addition of the useful Revolution Slider, you can show artistic content effectively. You have the ability to develop visually appealing slides that will demonstrate to your followers that you are deserving of their attention.
You can also add your own animation, effects, and transitions. There are many portfolio variations available, allowing you to present each content feature uniquely. This will provide audiences with a more enjoyable viewing experience, resulting in a higher view count for your entries.
There is no need for advanced expertise, and pages can be produced quickly. This removes the need for web development firms. Kalium has over 600 Google fonts that can be found in the Google Fonts Directory.
Neve
Neve is a free WordPress theme designed to give your website a fresh, eye-catching look. Neve is the ideal option for any entrepreneur due to its multipurpose nature, which was created following modern WordPress standards (including Gutenberg and Elementor compatibility). Furthermore, the theme includes 30+ ready-made pages.
For the novice, this theme is simple to set up. It also includes custom templates for the website's header and footer. It is swift and has no impact on the pace of your website.
OnePress
The latest and friendly free theme is designed to suit every business site – startups, corporate and creative businesses, digital agencies, product showcases, and other types of online businesses. OnePress has a sophisticated appearance and a simple one-page layout.
OnePress puts a new twist on flat design principles. It has decent typography, makes good use of whitespace, and ensures that the material gets the attention it deserves. The architecture is entirely responsive, custom content blocks are available, and advanced theme configuration options are available in the WordPress Customizer.
Ocean WP
OceanWP is a blogging theme that promotes itself as free, which it is in several ways. The primary functionality is. It's a prevalent WordPress theme, with over 3.6 million downloads. It's completely adaptive, retina-ready, and panders to more than just blogs; for example, it's currently promoting its e-commerce features.
Custom header templates, unlimited color choices, custom widgets, picture sliders, and a featured items section are available. After all, it's completely free to use!
Newspaper
Newspaper is among the most prominent news and magazine type WordPress themes. The Newspaper theme has a pre-built design to complement whatever content you'll be publishing on your website, from serious articles and reviews to recipes, fashion, entertainment, or travelogues.
Indeed, with so many varying demos to choose among, your news or magazine website is likely to have the best layout tailored to the piece of content you are publishing.
If you want to commercialize your website, the Newspaper theme comes with an ad management platform and a plethora of ad placement options. You can also use full-width page layouts, several headers, and top bar designs, as well as a variety of post templates to make your content more interactive.
The newspaper has a plethora of features that will assist you in building a professional news and magazine website through WordPress.
Sydney
If you're a freelance marketer, publisher, or content writer, having a great theme to showcase your achievements and specifics is critical.
This is where Sydney enters the picture. This is a versatile and feature-rich theme that is perfect for freelancers, both new to the field and those who have been doing it for a while and want to try something new. Sydney offers over 600 different Google fonts, and users have access to a full-screen slider, which can allow a good first impression on prospective clients.
A simple theme for any type of enterprise, with a full-screen slider, smooth scrolling, and beautiful animations. The theme has a professional image, a widgetized footer, and a straightforward style. It also has a unique and attractive GUI with colorful sections.
Wrapping up
We hope this article assisted you in locating the best WordPress theme for your website. If you want to find any high-quality free WordPress themes – or even the best free WordPress themes – you should consider a few keys, yet crucial factors such as design quality, mobile optimization, SEO, niche, and so on.
image source: themify