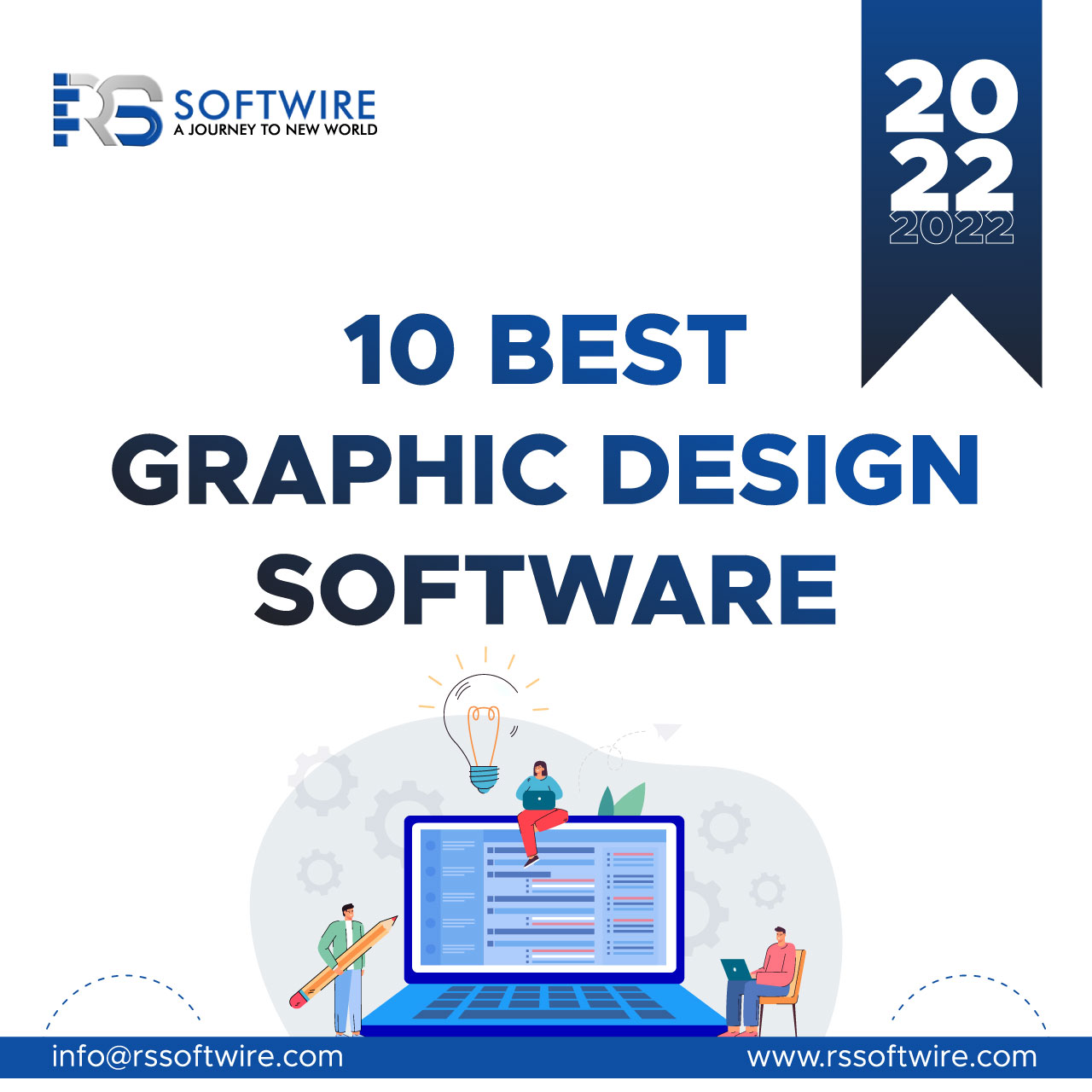 10 Best Graphic Design Software
The software is at the heart of graphic design. Sure, a skilled artist can create something lovely out of Microsoft Paint. On the other hand, an effective program's efficient controls and versatility can make all the difference. Software becomes an element of a designer's creative skill. They transcribe keyboard shortcuts, become acquainted with interfaces, and generally treat their preferred applications as though they were a second language. It is essential to provide a program that is easy to use and adaptable. For brands of all sizes, a spectacular design that appeals to an audience is critical.
Whether you need graphic designing software that allows you to start a blog like this one or edit product images for your e-commerce company, choosing the right graphic design software will elevate your brand identity to new heights. The best way to determine which program would work best for you is to get your hands on it and play with it. Each piece of software is distinguished by its functionality, ease of use, efficiency, price, and accessibility. In this article, we will highlight the best graphic designing tool you need the right way to outstanding.
Adobe photoshop
Adobe Photoshop is undoubtedly the most popular graphic design program, with millions of artists worldwide using graphic design. This best graphic design program can handle it all if you want to make banners, posters, blogs, or logos. Adobe Photoshop has options for every skill level, from simple edits to complex designs.
If you deal with illustrative drawings, you can also draw or paint anything you want. Photoshop is well-known for its classic features such as the pen tool, textures, and masks, graphic design but the most recent update introduces some cool new features such as a Frame tool for quick masking and a new Content-Aware Fill workspace. Photoshop is a fantastic graphic design skill to start learning because it has a potentially infinite skill range.
Key features
Design Tools: Provides a plethora of programming tools for both smartphone applications and websites.
Creative Cloud: Its own effective connectivity with Adobe Creative Cloud provides many distinctive properties, such as Content-Aware Crop, Face-Aware Liquify, Artboards, the Digital Design view, synced libraries, a glyph screen, Cloud Documents, touch and stylus input support, and so on.
2.Adobe in design
Adobe InDesign is just another software platform that can be used to build designs. This graphic arts application is mostly used in the publishing industry because it is enough to create magazines, informational papers, books, banners, immersive PDFs, and pamphlets, among other things. With InDesign's 'adjust layout' feature, you can change your template format, and the graphic will respond immediately.
The properties section has indeed been revamped to provide more intuitive design and data. The Sensei technology built into InDesign automates image layout and resizing.
Key Features:
Easy To Use: InDesign, apart from PhotoShop, has a low learning curve. Consequently, potential customers will be able to quickly discover how and when to blend graphs and charts to ensure the best possible outcome.
Adjust Layout: The 'Adjust Layout' function allows the programmer to modify the script of the prototype simply, and the template is instantaneously modified, which is ideal for graphic organizers.
Sensei Technology: Adobe's AI-powered Sensei technology automates picture image compression and organization.
3.CorelDRAW
CorelDRAW was previously mostly accessible for Windows, but it is currently also functional for Mac. You can make creative vector drawings with this graphic design program. There are interesting technical methods available to facilitate you in working quicker and better If you're focusing on logos, web design, or print ventures, you'll find a plethora of customizable choices. CorelDRAW also incorporates AI technology into LiveSketch, which transforms drawing into accurate vector forms. The suite offers features for both graphic design and layout. Photo-Paint and Corel Font Manager are included for image processing and text handling.
The app includes digital marketer resources and templates for creating innovative web material, and it can post automatically to your WordPress blog. The project's file accessibility is also impressive; it embraces over 100 data formats.
Key Features:
Content Exchange: Corel's integrated platform archive provides authorized customers with direct connections to dozens of increased photos and visual photos
Flexible Payment: Corel provides three payment arrangements in which clients can purchase the application as well as pay a small fee for daily updates. This event provides an update service for current members.
4.Inkspace
Inkscape, like several other applications, can be used for multiple purposes. Developers, illustrators, and graphic artists will all use it. The software includes versatile illustration capabilities that help newcomers to fully comprehend the program and design artwork Since the text is an essential component of graphic design, Inkscape contains unique editing tools. This software is free and public access, and it can be used on any device. A creator must devote considerable energy to learning ways to utilize this app. This program is ideally suited for creating vector-based pictures that must be saved in SVG format. Inkscape offers a plethora of templates as well as a supportive forum to benefit designers advance.
Key features
User Experience: The customer perspective is very positive for unlimited vector applications. Innovators who are experienced with Adobe software can use Inkscape effectively.
Regular Updates: Inscape has a strong team of software developers, which allows it to frequently release updated information and unique technologies.
5.sketch
The sketch is graphic development software for the Mac that puts an emphasis primarily on visual design. These software concepts are utilized in the development of websites, applications, and user interfaces. Sketch, apart from Photoshop, is not intended for image manipulation or printing function. You can build a project with Sketch by working closely with several other artists on the site.
The software includes a digital format function that allows the part to adjust itself depending on the material There are thousands of modifications in the program that will allow you to do vector editing as well as other development work with pixel-perfect accuracy. Another feature that this app can do is design interactive icons. Sketch, on the other hand, is not suitable for printing and illustration.
Key Features:
Low Cost: Sketch has an annual membership that is considerably less expensive than most packages.
Great For Mobile and Web: It enables the use of tables, snap to panel usability, and snap to pixel implementations to prevent half-pixel version and poor spacing.
6.Adobe illustrator
Adobe Illustrator is a vector-based modelling technology solution You can make illustrations, logos, banners, and so on, and the prototypes you end up creating in Adobe Illustrator can be featured on business cards, advertisements, and anything in between, from mobile phones to 8k displays. Graphic design This application enables you to sketch, combine, and customize templates to make everything beautiful. Adobe Illustrator Draw, a mobile edition of Adobe Illustrator, is among the smartest visual styling applications available.
Key features
In-Panel Editing: It's in filtering characteristic enables programmers to customize several animations at the same time, allowing them to operates extra quickly and effectively
Highly Compatible: It is highly competitive with a wide range of computers with varying Mac and Windows installations…
7.Affinity designer
The Affinity Designer is a less expensive substitute to Illustrator, making it ideal for those in the initial stages of their design careers. The program is well-known for its efficient functioning, boosting your performance and prompt you to demonstrate your creative thinking quite openly graphic design. You can rotate and expand your piece of art at 60 frames per second while seeing the patterns, results, and chances change in real-time alongside the transitions and shape editing
.Key Features:
Grid Systems: Its malleable grid framework allows creators to create grids while designing isometric gameplay visualizations and symbols. This function allows individuals to experience complete leverage over angles, gutters, positioning, and subdivisions to construct precise and reliable templates.
Snapping Option: It helps manufacturers to secure and place objects and elements based on a variety of factors such as grids, orientation guides, curves, and clusters of other materials.
8.GIMP
GIMP is an available graphic arts program that runs on various operating systems, including Windows, Linux, and Mac OS. GIMP is a fully accessible application that facilitates you to customize and release its source code. Several modification services and third-party plugins available for GIMP can be employed to increase usability and construct improved models Graphic design. GIMP may also be utilized to retouch pictures and initiate artistic composite materials. Interface elements and mockups, and printing templates such as labels and logos can be developed.
Key features
Regular Updates: Its involved development community ensures that it enjoys daily updates and inclusion. It is one of GIMP's standout benefits, making it a versatile framework for image recognition. N of innovative design elements.
GEGL Scripts: It is one of the standout benefits of GIMP that contributes to its status as an open platform for image processing.
9.Xara designer
Xara Designer is designed to work with both bitmaps and vectors. Desktop printing, product modelling illustration, and editing applications are all supported by the software. The visual arts program includes thousands of sample templates, unique features, and over a million archived images to get you working efficiently. When creating an image, line, or curve with vectors, you will not experience any drop of quality when scaling it up.
Key Features:
Direct Action Tools: The 'direct action' methods have powerful functionality and reliable capabilities suitable for typical utilization.
Drag and Drop Feature: This time-saving and instinctive technology enables creators to expand up to 25,000 percent and quickly use collective action software for accelerated work progress.
10.Gravit designer
This is yet another interactive graphic design program for creating vector-based layouts. This software allows you to design logos, edit images, and develop visualizations and illustrations. Gravit's free account does not encompass an offline edition. The app is fully customized to the expectations of the customer. Gravit's pro edition is priced and includes more professional tools such as specialized export services, graphic design offline edition, additional colour space, etc.
Key features
Pages: Its pages have a fantastic mix of editing tools and frames, as well as canvas variations.
Tools and Effects: It incorporates various equipment, such as the Bezigon tool, Lasso tools, and Pen tool, among many others.
images sources: digital.bu.edu