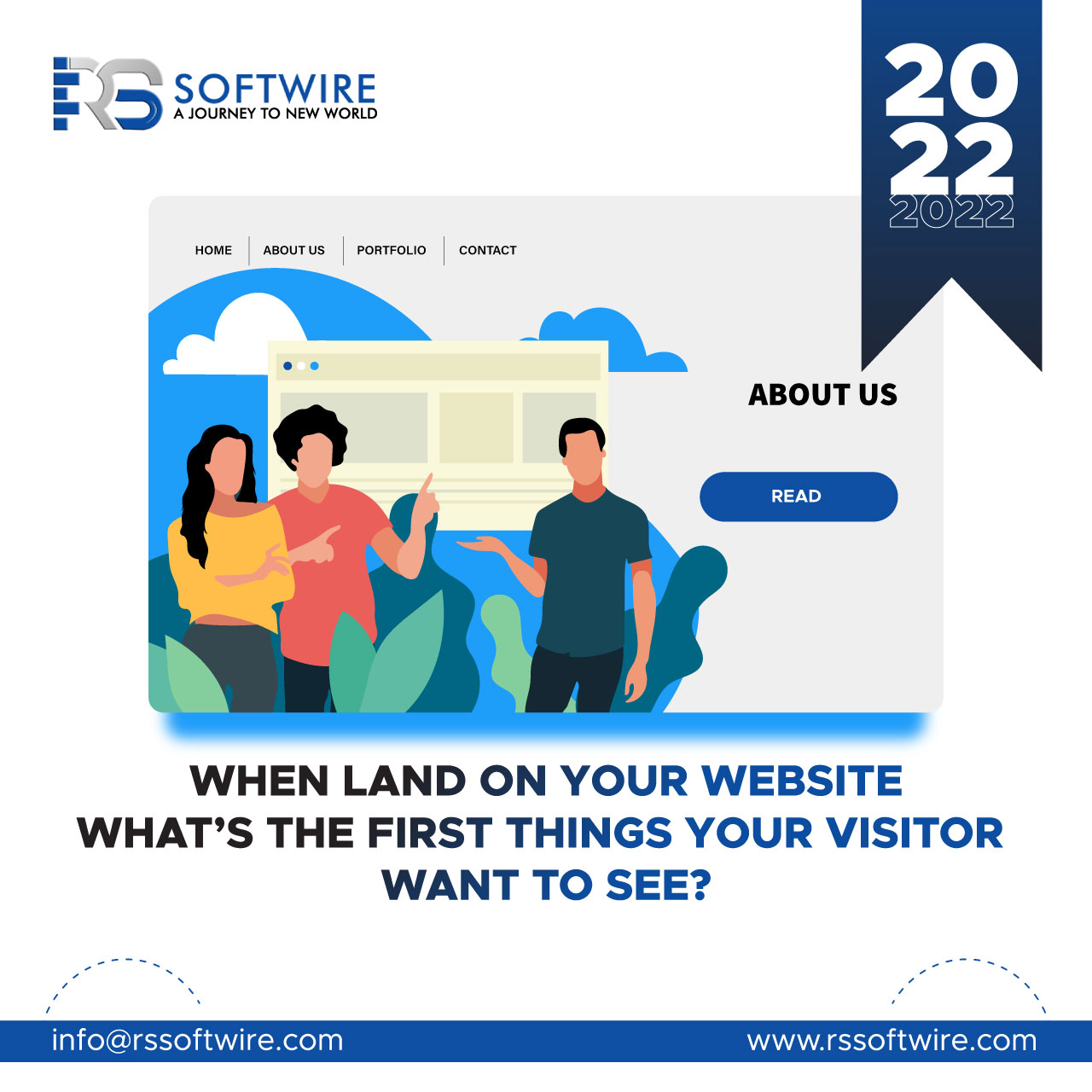 When Land On Your Website What's The First Things Your Visitor Want To See?
Is your website providing all of the information that a potential customer requires when you land on your website? According to one survey, 80 percent of people would research a brand before making a buying decision. In the modern age, searching for a business to help you decide it has become common practice; thus, it is imperative that the company website offers the most valuable information to prospective customers.
Website owners devote a significant amount of time and effort to studying Web Designing and SEO. Ignoring the viewers' standpoint, i.e., what they want to see when they arrive at a specific website. Neglecting visitors' desires can be risky and unsafe for websites in some situations. The essential awareness of visitors' expectations from a website must be taken into consideration to practice the art of supremacy on visitor's psyche.
SEO, marketing strategies, and consumer loyalty schemes are only a couple of the tactics you've most likely used to attract clients and keep them returning for more. You are fighting for your customer's attention with a slew of other items. If you want to capture users' interest and attract new customers, you must have whatever they want and some options they didn't know they needed.
With substantial experience in designing custom website designs for small and medium-sized companies in various industries, we've compiled a list of eight things that customers exploring your website (especially for the first time) will hope to see first.
Features After User land On Your Website?
Easy navigation
 The ease of navigation is one of the fundamental rules of successful web design when land on your website. Customers may not remain on your website for a while if they make it challenging to navigate the relevant page.
Furthermore, providing a basic navigation framework for your website aids in guiding customers to the conversion stage faster. You don't want them to get disoriented on  land on your website. When a user arrives on your site, they want to find the details they're searching for instantly.
Websites with a superior navigation system receive more traffic. Website owners must make their websites more navigable by keeping elements consistent, identifying categories and sub-categories, and placing appropriate call-to-action indicators to direct visitors.
Attractive design
We've all heard that first perceptions are pertinent. As a result, when anyone visits your website, the design must make a great impression. It should be enticing and compelling in order to capture their attention and convince them to stay on the web for a while and explore further.
Visitors who arrive on your site note the visual design aesthetics of the page, and if they feel it jumbled or unevenly distributed, they may not last. They will hit the back button earlier than anticipated.
Depending on the nature of your company, you must ensure that your website adheres to a particular design theme. If a sleek design approach is needed land on your website, don't go out with a loud and bright design layout just to be trendy.
Compulsive Content
Win the visitor's attention. The content on your website should be overwhelming and compulsive; it should be brief but imaginative. If your website captures a visitor's attention, the rest will fall into place. The more a person learns about your business, the more willing he is to purchase from you.
Your website is useless if it lacks high-quality content. Stay on top of the content on your website because it influences how future customers perceive your company and forms your brand. Make sure that the content is not only significant but also unique. Remember that when people read your website's material, they get what they need to understand before reaching a significant purchase decision.
Contact information
Don't risk losing potential customers by making it challenging for them to contact you. . Nothing is more infuriating than arriving on a website, being interested in those things or services, but being unable to locate the contact details! If possible, provide contact information on any web page and give the people more than one way to contact you so they can select the type of contact they need.
The following details should be included on your contact page: an email address, social media links (some people prefer to contact you through Facebook or Twitter! ), an address and phone number (if you have an office or store, for example), and a contact form.
Testimonial
Trust is one of the essential foundations of any partnership. As a result, when a user arrives at your website, they will undoubtedly want to determine whether or not they can value your brand. As a result, you must ensure that your reputation is built in the eyes of your customers as soon as they visit your website.
People aren't usually risk-takers when it comes to their money; they want to know they're buying from a reputable when land on your website, tried-and-true source.
Putting their minds at ease as soon as it arrives on your website is the perfect way to eliminate any worries! It would be best to have testimonials, product reviews, and a compilation of places where your company has been mentioned (online, press, etc.) . Both of these items demonstrate that others have interacted land on your website with you/purchased from you and had a positive experience, making it far easier for your site visitors to endorse you.
Clear pricing
If you're offering services like consultation, therapies, or marketing, the first aspect your website visitors would want to see is how much you charge.
You might believe they'll be more focused on 'the advantages your service provides to them' and how knowledgeable you are when land on your website. Still, unless you're providing an incredibly high-end service where money isn't a concern, customers want to know your rates first.
Mobile friendly
With over 70% of users worldwide using their mobile phones to access a website when land on your website, it is paramount that the website is responsive. When a desktop website is opened on a smartphone or tablet computer, the entire interface distorts, and it becomes slower. If you want to entertain your visitors, create a mobile-friendly website for their ease.
The benefit of getting a responsively designed website is that it only needs to be created once, eliminating the need for multiple versions for various devices and saving you money down the road land on your website.
Social media presence
Visitors to your website, accept it or not, want to know if you have a voice on social media sites. You are not required to be present everywhere. However, being active on some big players, such as Facebook, Instagram, Linked In, and Twitter, is always a smart option.
This is especially critical if your target demographic is teens and young adults when land on your website, who make up the vast majority of social media users worldwide.
If you have a social media presence, making it linked to your website. It has been discovered that 95% of the millennial generation expect a business to have a Facebook Page, so create one. If the company covers various graphics to advertise on social media, displaying these images on the website can be a great way to give potential customers information about how the company operates that they wouldn't get from just reading the background information.
So, those are the eight aspects that visitors would like to see first when they land on your website. If you've been curious why your website isn't generating the ROI you'd hoped for, it might be time to look for these factors in your website design. As previously stated, each business will have unique website specifications. Some may use their website to generate more leads land on your website, while others may use it as a repository of company information. However, the things listed above are the elements that any visitor will like to see on your site at first glimpse when land on your website, and they will ensure that more of those visitors convert to customers.
images source: webneel