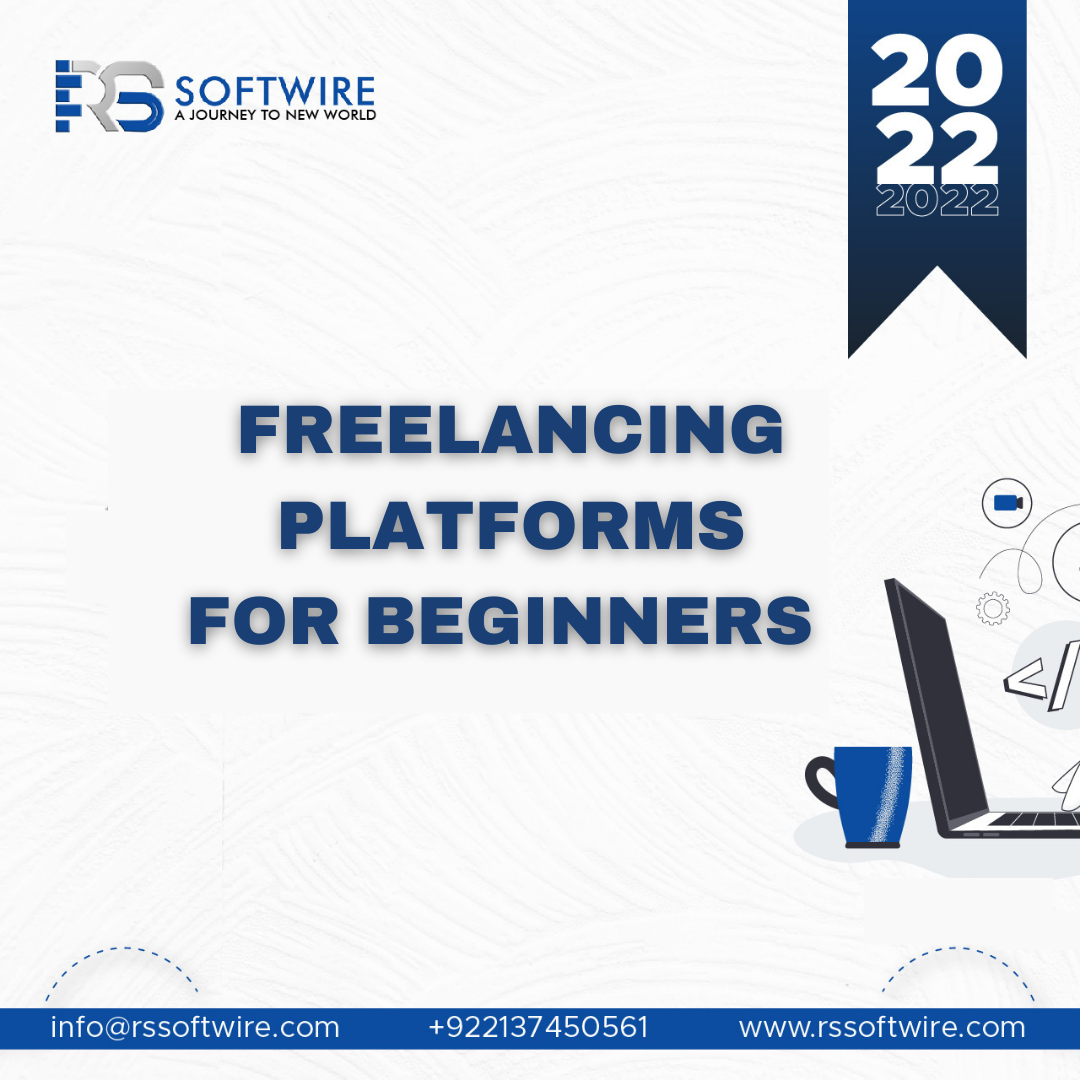 Top Best Freelancing Platforms For Beginners
On freelancing Platforms for beginners, you can work for yourself rather than for a certain employer. It enables independent contractors to look for a variety of employment. Freelancing websites are a simpler way to make money online if you are a newbie. It's fairly simple to search these platforms and find employment that fit your qualifications.
Freelancing Platforms For Beginners
The list of Best Freelancing Websites for Beginners is provided below.
A list of job categories is shown below.
Various Freelance Positions (Websites)
SEO Jobs (Websites)
Jobs for Freelance Designers and Developers (Websites)
Jobs in Freelance Design (Websites)
Jobs for Independent Developers (Websites)
Jobs for Independent Video Editors (Websites)
Job in Freelance Graphics (Websites)
Jobs in Freelance Marketing (Websites)
Jobs as a Virtual Assistant (Websites)
Jobs for Freelance Writers (Websites)
Jobs for Freelance Testers (Websites)
Websites with General Freelance Positions:
1) Toptal
Toptal is a network for independent product managers, finance specialists, etc. Jobs across a wide range of industries, including finance, healthcare, and e-commerce, are simple to discover. Before applying for a position, Topal site applicants undergo testing and background checks. For their projects, several well-known companies use Toptal to find freelancers.
Link: https://www.toptal.com/
2) Upwork
A portal for finding freelance jobs is Upwork. Upwork offers a variety of general jobs in the fields of data science, administration, accounting, translation, and IT and networking.
This freelancing platform for novices allows you to send an unlimited number of proposals to clients. A 20 percent fee will be applied once you start working with a new client. The website is incredibly user-friendly for new users.
Link: https://www.upwork.com/
3) Freelancer
This website offers work in areas such as accounting translation, product sourcing, sales and marketing, human resources, and data entry. Before paying membership dues, you can receive 8 free applications after logging in and registering with Freelancer. You must submit a bid for the fees and a proposal if you wish to work on our site as a freelancer. One of the greatest freelance websites for beginners, it offers a committed team of advisors who assist you in getting employed more quickly.
Link: https://www.freelancer.com/
4) Fiverr
A service called Fiverr might assist you in finding work as a freelancer. It offers positions in areas such as writing, translation, video editing, audio editing, and digital marketing. those who desire financial gain. They must be knowledgeable on proper Fiverr usage. On this website, you can easily create a strong portfolio.
Link: https://www.fiverr.com/
5) Guru
A freelance website called Guru assists newcomers in building their profiles. Freelancers can work in the fields of finance, marketing, engineering, administration, etc. on this website.
One of the greatest freelancing platforms for newcomers, it offers a simple approach to contact potential employers. Every day, our portal posts a sizable number of jobs. Guru deducts 5 to 9 percent of the amount you received once a work was satisfactorily completed.
Link: https://www.guru.com/
6) Servicescape
Website for freelancing work with startups and SMBs called Servicescape. It is among the best platforms for new freelancers to find work as an editor, translator, graphic designer, writer, etc. Sending messages, making phone calls, and other forms of communication with clients are all options.
Link: https://www.servicescape.com/
7) PeoplePerHour
People looking for freelance employment can access businesses through the PeoplePerHour platform, which is situated in the UK.
One of the best websites for independent contractors that aids in customer connections is this one. You can advertise your skills on this website and get employed for projects or by the hour.
Link: https://www.peopleperhour.com/
8) Hubstaff Talent
Hubstaff Talent is a platform that enables people to work full time, based on an hourly contract and fixed price. You can find a job as a networking and infrastructure manager, helpdesk manager, receptionist, account executive, product marketing, etc.
You can just fill out your personal details, skills, and your availability, and you will be notified via email whenever someone likes your service.
Link: https://talent.hubstaff.com/
9) CloudPeeps
Generally freelancing work in marketing, copywriting, social media, email marketing, etc. is the focus of the CloudPeeps online portal. More than a thousand specialists work there as independent contractors. On this website, remote work is possible.
Link: https://www.cloudpeeps.com/
10) Truelancer
Truelancer is a platform where employers and freelancers may collaborate on projects. It provides work from home jobs, virtual assistant jobs, marketing trainer jobs, and more. It also offers freelance employment online for novices. By working on Truelancer, you can quickly make money. It may be accessed from an iPhone, Android, or browser.
Link: https://www.truelancer.com/
11) Flexjobs
You can locate freelance employment, jobs with flexible hours, and more via the portal Flexjobs. You have unrestricted access to jobs once you register on this website. Employers can find you through its quick and simple profile creation process. When a new job is posted, the Flexjobs website sends out an email notification.
Link: https://www.flexjobs.com/
12) Zeerk
The Zeerk website features many areas, including writing, posting articles or blogs, data entry, sales promotions, and more. You may submit a withdrawal request after the vendor has given their approval to your work. To give feedback to the employer, it has a built-in transaction and dialogue management system.
Link: https://zeerk.com
SEO Jobs (Websites)
1) SEOclerk
A marketplace created particularly for SEO services is called SEOclerk. You can use it to sort jobs by cost, level, etc. Job seekers can look for positions in on-page SEO, link building, increasing website traffic, internet marketing, and other related fields. You could get emails about positions that are similar to the one you applied for.
Link: https://www.seoclerk.com/
2) Justremote.co
A freelance website for beginners called Justremote.co might help you find remote work that aren't listed. This website makes remote employment available to you and assists you in finding them. The world's largest selection of top-notch remote businesses will be available to you. This aids with the upkeep of the machinery used to compile and arrange all the data.
Link: https://justremote.co/power-search
3) Konker
Online platform Konker focuses on SEO-related topics (Search Engine Optimization). You can apply for tasks like backlink building, content creation, YouTube SEO marketing, keyword analysis, website optimization, etc. It offers employment options both online and off.
Link: https://www.konker.io/
Freelance Design and Developer Jobs (Websites)
1) Smashing Magazine
Jobs for UX designers, web designers, Java developers, Java developers for mobile apps, and more are available on the website Smashing Magazine. Finding remote, full-time, and part-time employment that fit your preferred schedule is simple.
Link: https://www.smashingmagazine.com/jobs/
2) Solidgigs
A range of freelance projects, such as those for a guest blogger, media consultant, salesforce administrator, etc., are available on the beginner-friendly freelance website Solidgigs. You can easily and quickly access interviews thanks to it. Downloadable scripts, utilities, templates, and spreadsheets are available on this website. It makes it easier for you to quickly discover a job.
Link: https://solidgigs.com/
3) 10x Management
A company called 10x Management assists designers, coders, and developers in finding employment. When you sign up on this website, you will receive assistance from agents who respond to your inquiries and provide a solution. You receive money from the employer after completing the project.
Link: https://www.10xmanagement.com/
Freelance Design Jobs (Websites)
1) 99designs
A platform for connecting graphic designers and clients is called 99designs. It offers a wide range of job categories for things like web app design, illustration, and logo design. Here, designers pay platform fees based on their level as designers, such as top level (5%), mid level (10%), and beginner level (15 percent ). Clients announce a contest, and designers can apply with their work.
Link: https://99designs.com/
2) Envato Studio
A community of designers and developers can be found at Envato Studio. You are capable of performing tasks like creating a logo, a website, a landing page, and others. For beginners, the site is incredibly simple to use. This website gives you the option to finish the task within the specified turnaround time and the specified number of revisions.
Link: https://studio.envato.com/
3) Dribbble
People looking for freelance work can find resources on Dribble. It's a location where you can quickly share your web design work with potential employers and discover the best job openings. Numerous projects for UI & UX designers, product designers, visual designers, brand designers, etc. are available on this website.
Link: https://dribbble.com/
4) Coroflot
You can work as a web designer, fashion designer, art director, creative director, and more thanks to Coroflot. It enables you to link designers with a variety of global prospects. Your salary and personal details are kept private by Coroflot.
Link: https://www.coroflot.com/
Freelance Developers Jobs (Websites)
1) Angel List
Using the Angel List platform, job seekers may collaborate with businesses. To apply for a position developing websites and software, go to this page. Jobs can be found by geography, technology, pay, market, and other factors. You'll get an email alert if any businesses express interest in your service.
Link: https://angel.co/jobs
2) Gun.io
A place for experienced freelancers is called Gun.io. Both businesses searching for freelancers and developers asking for jobs use it to make selections. The Gun.io staff will scrutinise you and match your talents to the employer's job after that. It guarantees a long-lasting partnership between employers and workers.
Link: https://www.gun.io/
3) Storetasker
Freelancers can find work on Storetasker. They can look for a career in website development with ease. This website offers a convenient method for matching clients and freelancers. Beginners can find work creating new websites, tweaking them, developing marketing strategies, fixing bugs, etc.
Link: https://www.storetasker.com/
4) Codeable
The Codeable website aids you in locating employment as a WordPress developer. You must here resolve the WordPress-related problem. Before assigning tasks, the team working for this site will match your programming talents with the needs of the recruiter.
Link: https://codeable.io/freelancers/
5) Gigster
Web and software professionals can find employment thanks to Gigster. One of the beginner-friendly freelance websites, it includes a screening procedure that makes it simpler to match freelancers with tasks. To free you up to concentrate on your primary duties, the Gigster staff handles the sales and administrative tasks.
Link: https://gigster.com/
Freelance Video Editors Jobs (Websites)
1) ProductionHUB
A network for those who enjoy working as video editors is called ProductionHUB. On this website, you can easily display your work and connect with clients. To respond or place a bid on projects here, you must first create a profile. You can apply for both full-time and part-time jobs with the aid of ProductionHUB.
2) Media Bistro
Writing and editing are two of the many categories available on the freelance job site Media Bistro. You can easily work if you have some experience with social media management or article editing.
Link: https://www.mediabistro.com/
3) Mandy
The only focus of Mandy's website is her production work for television and movies. You can find a variety of jobs on this website, such as those for editors, casting assistants, and more. The main benefit of this service is that you can avoid sorting through useless jobs.
Link: https://www.mandy.com/
Freelance Graphics Job (Websites)
1) Behance
Behance enables you to find full-time, freelance, or internship graphic design work. In a number of fields, including architecture, branding, fashion, illustration, photography, and others, you might find employment. It is one of the top websites for independent contractors and supports a number of nations, including the USA, Afghanistan, Belgium, Australia, and Canada.
Link: https://www.behance.net/
Freelance Marketing Jobs (Websites)
1) Zirtual
Zirtual makes it simple for people to find full-time employment. You can work remotely thanks to it. There are numerous areas for marketing, including managing emails, organising events, researching, and many others. Candidates must be US citizens in order to be hired by employers.
Link: https://www.zirtual.com/jobs
2) Clickworker
A marketing platform is called Clickworker. You can register for free on this portal. You can work freely and on your own schedule thanks to it. You can work from a computer or a mobile device with an internet connection using Clickworker. Your working hours and desired workload are up to you as a freelancer.
Link: https://www.clickworker.com/
Freelance Testing Jobs (Websites)
1) Testbirds
On the website Testbirds, you can find work linked to testing websites or mobile apps. You will be paid more if you find bugs. You can select whether you want to test during the day or at night on this freelance website.
2) User Feel
Jobs for website testing are available on the User Feel portal in multiple languages. The tester could, for instance, submit an evaluation in their mother tongue. You must register on this website and pass a qualifying test in order to work as a tester. This is the first step in the testing freelance process.
Link: https://www.userfeel.com/
3) User Testing
A place to make money through website testing is user testing. It is accessible through your website or mobile app. You only need a computer, a microphone, and an internet connection to get money from user testing. To receive your money, you need a PayPal account. You will receive your cash a few days after finishing your website testing work.
Link: https://www.usertesting.com/get-paid-to-test
FAQ
Which freelancing site is best for beginners?
The greatest websites for beginners to start freelancing are listed below:
Toptal
Upwork
Freelancer
Fiverr
Guru
Servicescape
PeoplePerHour
Is PeoplePerHour good for beginners?
Yes, PeoplePerHour Is good for beginners. Here are some reasons:
Peoplepwrhour is a fantastic method to start off as a freelancer. Making a profile and placing a bid on projects is a good place to start.
Developing your portfolio is made easy with PeopleperHour. Prospective customers can view your work and provide feedback.
Networking with other independent contractors is quite easy with Peopleperhour. You can gain knowledge from their mistakes and solicit suggestions as well.
It's an excellent approach to make money.
It can help you get experience, develop new talents, and increase your knowledge.