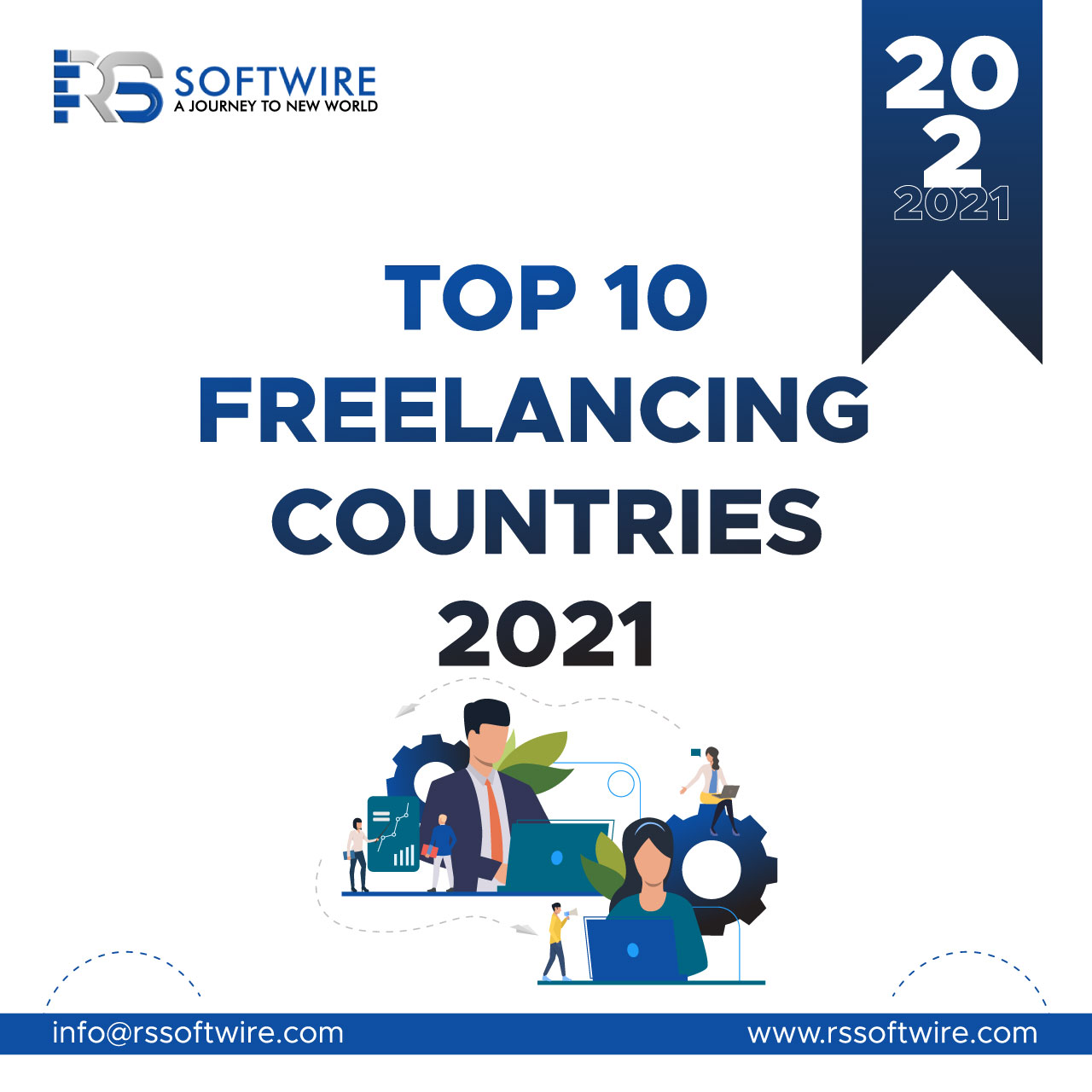 Top Ten Freelancing Countries 2021
Freelancing is among the most rewarding things you can do. It entails a great deal of freedom, individuality, and choice over one's future. Hiring a full-time employee necessitates the payment of a full-time salary, taxes, and benefits. When you hire a freelancer on a contract basis, you pay for the cost of the task. This means that there are no ancillary costs associated with employment. This provides firms with more free cash flow to invest in expansion, which can eventually lead to hiring or profits that can be used to stimulate local economic growth.
Freelancing has resulted in the rise of digital nomads, who work and travel regularly. This helps to disperse economic activity outside of major centers. It can stimulate economic growth in both urban regions and small towns. Today, freelancing has grown in popularity as a viable employment alternative. Not just adults and the elderly, but even young students, have begun to pursue careers in the field of freelancing. The sector is expanding rapidly as the scope of freelancing expands and here are modern freelance business ideas you can start for free.
Have you ever thought about how many freelancers are there in the globe and where they come from? We did, after all. However, the best part about the freelancing market is that it is limitless.
Kudos to Wi-Fi, video, and chat services; a freelancer may now live and work worldwide. As a result, several nations with many freelancers have risen to become the top freelancing countries in 2021. A breakdown of the powerful freelancing nations assists them in determining where to concentrate their quest. Here is a list of the top 10 countries for freelancers:
1. U.S
Earnings for freelancers in the United States have increased dramatically in the previous year, rising from 10% in 2018 to 78 percent in 2021, making it the greatest globally by far. The gig economy in the United States draws professionals of all ages. However, it tends to favor younger generations who are more technically savvy or are accustomed to less traditional labor systems in other marketplaces. According to a study of over 6,000 US employees over the age of 18, even amid the COVID-19 epidemic, freelancers generated $1.2 trillion to the economy in yearly earnings–a 22 percent increase since 2019.
2. U.K
With a 59 percent year-on-year income rise, the U.K. joined the top of the freelancing countries table in 2021. In the previous year, the number of freelancers in the U.K. rose by 31%. While prominent professions like consultancy and I.T. continue to expand the majority of the freelance market, many of the U.K.'s new freelancers operate in lifestyle and creativity sectors, such as the 24 percent increase in freelance photographers and the 159 percent increase in freelance beauticians.
3. Brazil
Brazil has entered the top ten freelancing countries ranking for the first time in 2019, thanks to a 48 percent increase in freelancer earnings. Brazil is the world's third-largest side-gig economy, after only the United States and the United Kingdom. Because Brazilian firms have yet to embrace the use of remote employees, a substantial share of Brazil's freelancers works for businesses outside of the nation. Other states are eager to hire Brazilian freelancers, whose prices are usually lower than those in the United States and Europe.
4. Pakistan
Many people were taken aback when Asia had the highest regional growth rate. Earnings in four nations increased by 138 percent. Pakistan led the pace in Asia, with a 47 percent growth in freelancer earnings over the last year. The number of Pakistani freelancers has increased dramatically in the previous year, rising from 4% in 2018 to 42% in 2019 and eventually 48% in 2020-2021, solidifying Pakistan's place as number 4 in the top freelancing countries ranking for 2021. In Pakistan, a younger generation is looking for additional possibilities. As per a survey, 12,000 young people graduating from e-jobs have earned Rs 14 crore throughout Pakistan's e-employment freelancing program, contributing to a rise in exchange and a drop in unemployment.
5. Ukraine
Ukraine's freelancer revenue increased by 36% last year, owing primarily to the country's high percentage of I.T. university graduates. In addition, Ukraine's young freelancers are well-known for their proficiency in I.T. services, which helps to increase their earning capacity.
According to a report, the Ukrainian government has established a unique taxing framework for I.T. outsourcers and goods firms that exempts them from value-added tax. It also allows them to hire freelancers as subcontractors who are not subject to labor taxes. In addition, these businesses can also benefit from eased foreign exchange regulations.
Ukrainians have extensive expertise in dealing with Western markets. In addition, they share a time zone with the rest of Europe, making it simple for firms throughout the continent to hire Ukrainian freelancers.
6. Philippines
Because of the lower fees charged by freelancers in the Philippines, it has been one of the top ten freelancing nations for several years.
In the Philippines, the government-funded Rural Impact Sourcing Technical Training Project equips indigenous people with ICT-based expertise to help them flourish as digital workers and entrepreneurs.
7. India
India has slipped a few points in the 2019 rating of the top ten freelancing nations. It used to be the world leader in freelancers, but a 29 percent income increase this year has dropped its seventh position. Freelancers under the age of 25 have a notably high presence in the Indian employment market, accounting for 21% of the freelancer workforce.
Under the Digitize India Platform program, the government of India gives freelancing possibilities for indigenous talent. The government also offers digital skills training through the India Skills Online initiative, and the Ministry of Skill Development and Entrepreneurship is dedicated to assisting young women and marginalized groups.
8. Bangladesh
Bangladesh is another long-standing freelance market leader that has dropped a few spots in the top freelancing nations rating for 2021. Low salaries in Bangladesh make freelancing a convenient option since it gives financial stability and freedom to those who would not otherwise have access to the same earning possibilities. With the average monthly income in Bangladesh being approximately $60, freelancing brings up opportunities for significantly larger profits.
9. Russia
Freelancing revenue grew by 20% in Russia in the past year, with freelancers earning more money. In 2020, 14 million Russians worked as freelancers. Over the last three years, the number of freelancers in the country has nearly quadrupled. The freelancer market was valued at 41 billion U.S. dollars in 2020 and was expected to expand significantly in the following years.
According to a local poll, the average freelance pay is currently more significant than the local average wage of 38,800 rubles ($597) per month. Marketing communications jobs are the most popular, accounting for 25% of all openings, trailed by I.T. services.
10. Serbia
Serbia is a surprising addition to the top ten freelancing nations table, with freelancer earnings expected to increase to 19% by 2021. In addition, Serbia, along with Romania, was recognized as one of Europe's top countries regarding the proportion of the digital workforce about total population, and total employment.
Serbia is gaining a reputation for producing great freelance developers and programmers, and several firms, including GoDaddy, Microsoft, and Adobe, have chosen to locate their headquarters there.
Conclusion
Previously, freelancers relied on the United States and the United Kingdom to outsource most of their work to emerging countries. However, Asia is among the top ten fastest-growing freelancing marketplaces in the world. As worldwide countries increase their freelance workforce, the freelance market will only grow more affluent for the freelancers that live in each country.