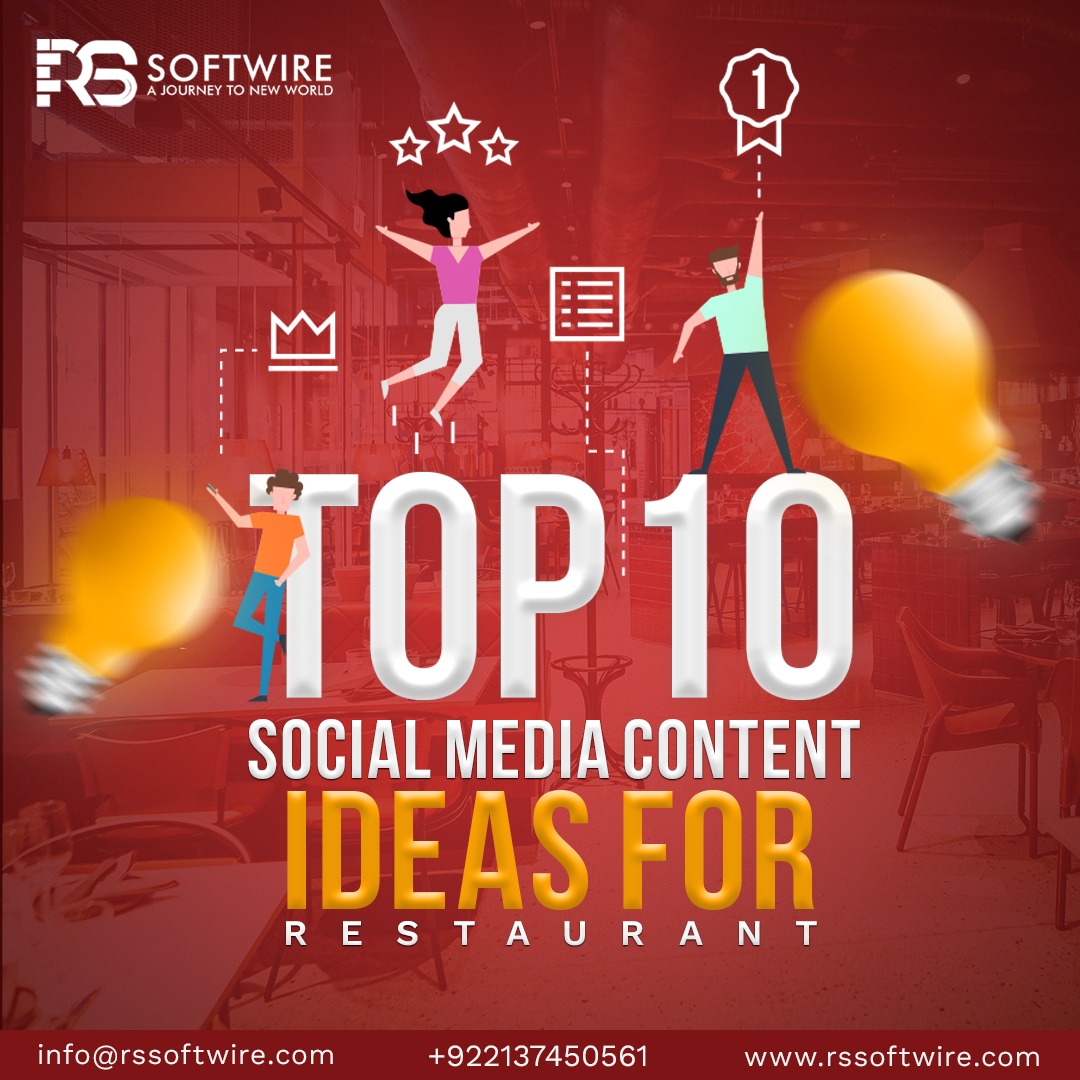 Top 10 Social Media Content Ideas for Restaurant to Boost Your Brand
Social media is a great way to promote your restaurant and connect with potential customers. In this article, we will explore the top 10 best social media content ideas 2022 for restaurants that can boost your brand and beyond. we came up with ideas that will keep your followers engaged can be tricky!
Images and videos are amongst the most popular types of content on social media. Instagram and TikTok are great platforms for showcasing your restaurant's menu items, special offers and unique atmosphere. Try to make sure your visuals reflect the overall personality of your brand, as well as the quality of your food.
Focus on customer engagement by creating content that encourages conversation, such as polls and quizzes. This will help build relationships with customers and give you valuable insights into their needs and preferences. Try to use fun topics that relate to your restaurant or local area – this is a great way to generate interest in both existing customers and potential new ones.
Don't forget about user-generated content; featuring reviews, photos and videos from customers can be a great way to show off your restaurant in an authentic way. Always remember to ask permission before promoting any posts from customers, even if they have tagged you in them!
You could also create live streaming events or series featuring interviews with chefs, kitchen tours or behind-the-scenes looks at how dishes are prepared. Exploring food culture through educational or historic articles is another great option for interesting content for your followers. Consider running competitions or giveaways where fans can win prizes such as a  free meal or discount vouchers.
By providing interesting and engaging content to your customers, you'll be sure to boost your brand in 2022!
10 Social Media Content Ideas for Restaurants
As a restaurant owner, you know that social media is a powerful tool to reach new customers and grow your business. But what kind of content should you be sharing on social media?
Here are some ideas for social media content that will help boost your restaurant's brand:
1. Share mouth-watering photos of your food.
Make sure your photos are high quality and show off your dishes in the best light possible. Use creative angles, interesting props, and attractive presentation to make your food look as appetizing as possible.
2. Showcase your unique selling points.
Whether it's your award-winning wine list, handcrafted cocktails, or locally sourced ingredients, let your potential customers know what makes your restaurant special. Share photos and information about the things that make your eatery stand out from the rest.
3. Give a behind-the-scenes look at your kitchen.
People love seeing how their food is made! Give them a peek into the inner workings of your restaurant with photos or videos from the kitchen. You can also share recipes, cooking tips, or fun facts about the food you serve.
4. Introduce your staff members.
Your staff is one of the most important parts of your business – they're the ones who make sure each customer has a great experience at your restaurant. So why not introduce them on social media? Share photos and brief bios for each member of your team,  and show how they contribute to the success of your restaurant.
5. Highlight customer reviews and feedback.
Share positive customer reviews and feedback that you've received on social media, and thank people for taking the time to share their experiences at your restaurant. This is a great way to show potential customers that you value their opinions and take customer service seriously.
6. Offer exclusive discounts or deals.
Offer special discounts or deals exclusively to followers on social media – this will encourage people to follow you so they don't miss out! You can also offer discounts for certain days or times, such as Happy Hour specials or discounted meals during the weekdays.
7. Share upcoming events or promotions.
If your restaurant hosts regular events, such as live music nights, trivia nights, wine tastings, etc., make sure to promote them on social media ahead of time so people can mark their calendars. Also share any upcoming promotions, like holiday specials or seasonal menus, so customers know when they should visit your restaurant.
8. Tell stories about your business history.
People love hearing stories – share tales from your restaurant's history with followers on social media! Talk about how it  all started, how it has evolved over the years, and how your restaurant has become the success it is today.
9. Get involved in relevant conversations.
Follow relevant hashtags on social media and join in conversations about them. This will help you reach more potential customers and build relationships with industry peers. For example, if you're a seafood restaurant, participate in #SeafoodLovers conversations or follow seafood-related influencers to get involved with what they're talking about.
10. Showcase your community involvement.
Let people know that your restaurant is actively involved in its local community! Share photos and stories of any charitable events or fundraisers that you've held at your eatery, or highlight any volunteer work that staff members have been doing outside of the restaurant.
Content Ideas for Social Media Platforms
When it comes to restaurants their is a lot of social media platforms like, Facebook, Instagram, Twitter, and Snapchat are all popular choices for restaurant marketing. But what kind of content should you be sharing on each platform?
Here are some ideas to get you started:
Facebook:
-Share photos and videos of your food
-Post about special events or promotions
-Show behind the scenes footage of your kitchen or staff
-Encourage customers to leave reviews or check-in at your location
-Ask questions or run polls to engage with your audience
Instagram:
-Share beautiful photos of your food
-Use hashtags to reach new audiences
-Showcase customer testimonials in IGTV videos
-Run fun contests or giveaways
Twitter:
-Tweet about daily specials or promotions
-Share short video clips of your food being prepared
-Retweet positive reviews from customers
-Answer customer questions in real time
Snapchat:
-Take users on a tour of your restaurant
-Share behind the scenes footage of your kitchen or staff at work
-Showcase user generated content (such as Snapchats from customers enjoying their meal)
Ways to Engage Audience on Social Media
In order to engage your audience on social media, you should consider the following ideas:
Use high-quality images and videos
Share behind-the-scenes content
Offer exclusive deals and promotions
Host social media contests and giveaways
Share user-generated content
Tell stories about your restaurant or staff members
Highlight customer testimonials and reviews
Offer sneak peeks of new menu items