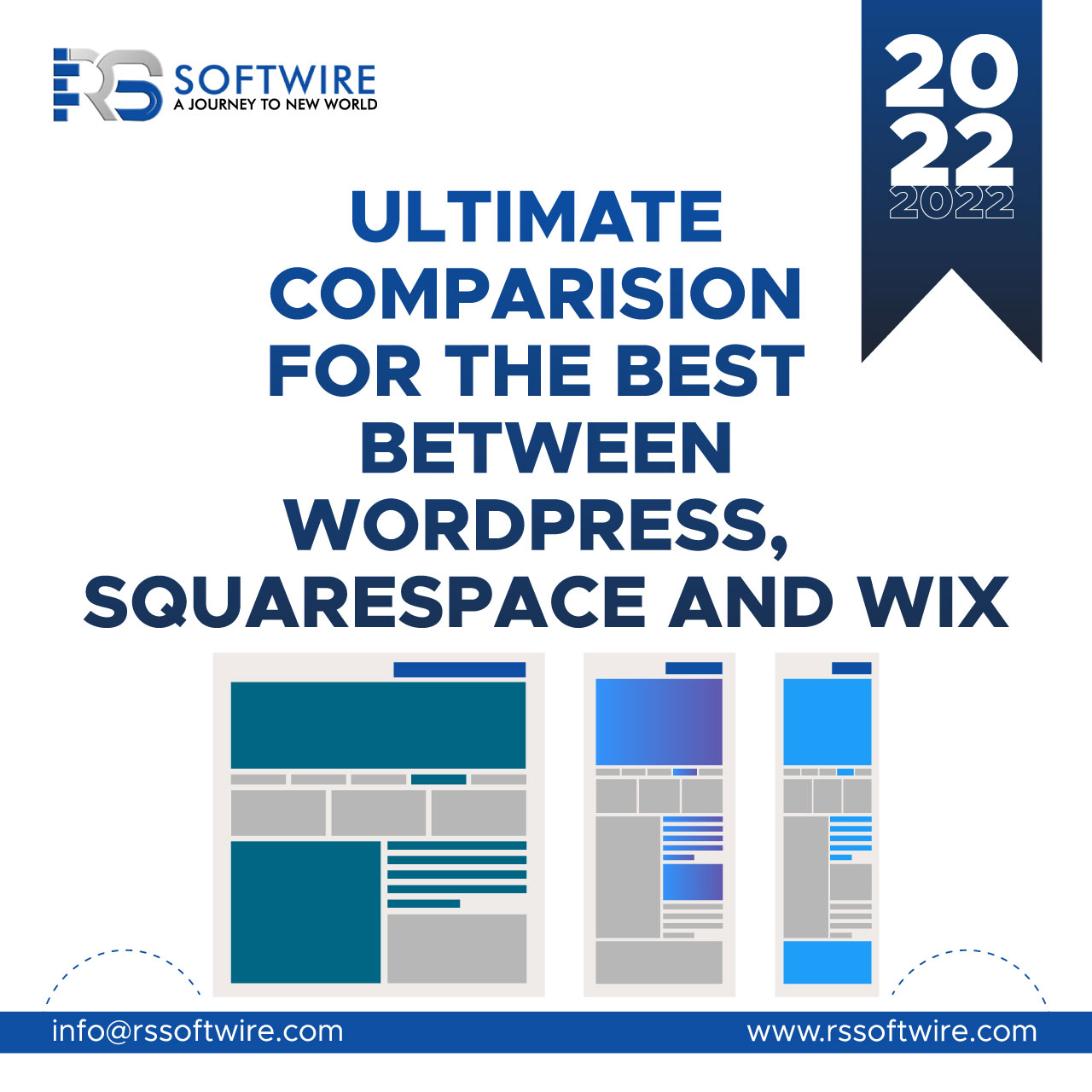 Ultimate Comparison For The Best between WordPress, Squarespace, And Wix
Identifying the perfect website builder for your next digital transformation strategy is one of the essential factors in Ultimate Comparison to ensuring that everything goes smoothly and adequately. Even though there are several builders on the market, some stand out from the crowd in the Ultimate Comparison. WordPress.com, Wix, and Squarespace are three options that all offer dependable, high-quality website design options for anyone from complete beginners to web development specialists.
Ultimate Comparison
If you've been considering creating your website for business or fun, you may be wondering which of the three most popular builders is optimal: Wix, Squarespace, and WordPress. We understand. With so many options, it can be challenging to determine which platform is better for blogging, which site provides the best templates, and which site can best serve your hosting needs.
All three services have many similarities, and it's reasonable to say that they're all among the leading web builders currently. When you want to create a nice-looking yet customized website, each is extremely simple to use. All three have a free domain for a year if you sign up for one of their paid version, and they all have reasonably priced hosting plans.
That is, they are low-risk if you merely want to stick your nose into building an online presence. They all have some form of social media integration as well as search engine optimization tools for Ultimate Comparison. You don't have to be concerned because we are here to assist you with our comprehensive research and testing on all three platforms for Ultimate Comparison. And the findings will undoubtedly aid you in comprehending the outcomes of each forum. Let's get started:
WordPress 
Introduction
WordPress is a self-hosted open-sourced platform. As a result, you can install it on your web hosting account for free. It is so famous that it owns more than 40% of all sites on the internet. It is ideal for creating easy to complex websites with advanced features, ownership, and versatility.
It is regarded as the most effective content management system, and it is ideal for responsible business owners who want their website to expand alongside their company for Ultimate Comparison.
Features
WordPress comes with simple themes and plugins that make it fit for blogging. However, it is not a drag-and-drop platform by default.
Themes
Over the years, many website developers and designers have devised WordPress themes. There are whole websites devoted to offering up and selling the themes. WordPress also has a platform for free themes screened before they are made available to the public.
Mobile-Ready
Most themes are mobile-ready, but you can double-check that a website would be sensitive and how it is mobile-ready. To view a desktop website on mobile phones and tablets, many mechanisms are used. Before downloading or buying a theme, make sure to check out the mobile edition.
Plugins
Plugins are close to apps in that they add functionality to your WordPress website. There are various plugin groups, ranging from free to premium. There is an infinite number of free plugins available, and most paid plugins have restricted access with a free edition.
Slideshows
The WordPress marketplace has over 600 slideshow plugins that are free to use. Any slideshow you like is most likely available on the WordPress platform or another marketplace that offers WordPress plugins.
Images
WordPress's media library organizes your content. In the media library, you can also customize your photos and add SEO details to the content.
Video Integration
Linked to slideshows, there is a plugin that allows you to link self-hosted or third-party videos from sites such as YouTube and Vimeo to your website. Some video plugins can also make your videos reactive, allowing them to be viewed more efficiently on mobile devices.
Blogging
Since WordPress began as a blogging website, it is already built-in and available to use.
eCommerce
Like plugins, there are a few eCommerce platforms available. WooCommerce and MarketPress are the two most common channels. These free plugins also include paid add-ons that allow you to modify further the choices, such as payment plans and payment gateways for Ultimate Comparison.
Cost
WordPress is a free platform to use. However, when it is said and completed, plan to pay for hosting, a domain, and a few premium add-ons. WordPress hosting prices range widely – from $4 to $40 per month, varying on features – but plan to pay $15 per month for a dependable, fast host.
Pros
Cons
ü WordPress offers a high level of customization and optimization.

 

 

ü There is a large selection of Plugins and Extensions accessible.

 

ü It is simpler to manage website data and offers greater versatility.

ü You necessarily know some coding in one or more languages because you can experience difficult-to-resolve problems.

ü For completely operational features such as SEO, you will need to install a plugin.

ü If you need a lot of storage, you will need to upgrade to a paid plan to increase capacity.
Wix
Introduction 
Wix, which was created in 2006, has an easy-to-use drag-and-drop interface, which means that almost everyone can learn how to design a pretty portfolio or company website for Ultimate Comparison. The best web designer for Websites that are easy and quick to use but have a sleek look and feel to them.
Wix is the best ecommerce platform, with three online shop plans that include advanced tools and blogging solutions that include templates from one of the most excellent libraries available. Its outstanding editor allows for extensive customization, with extensive support had as part of the paid-for plans.
Features
When you arrive on the Wix homepage, it immediately asks you what type of website you want to build. They offer templates for businesses, designers, restaurants, hotels, and more.
Drag and Drop Editor
On the Wix system, no technical knowledge is necessary in Ultimate Comparison. Drag and drop the items onto the website without worrying about pre-defined parameters. This can be beneficial if you have a sense of design; otherwise, it could be disastrous.
Themes
Wix has over 500 designs and templates for various types of companies that can build virtually any kind of website.
Mobile-Ready
Since transitioning to HTML5 in 2012, Wix has rendered mobile-friendly a cornerstone of their website builder.
Galleries
Wix allows you to edit and restyle your images before uploading them to one of the 40 gallery templates available. Furthermore, Wix provides millions of royalty-free stock images for use on your page.
Video
Video Wix enabled you to insert a video as the backdrop of your website, which will drastically improve the viewer's interaction.
Parallax 3D Effects
Parallax is an impact that allows text to scroll while a static background image remains static. A parallax 3D effect causes layers of a website to travel at various speeds, giving it a 3D look. The homepage of Wix.com is an example of this influence. Each section's background image coincides, and the text travels at a different pace than the background
Blogging
Add a tailored blog to your website.
Apps
Wix offers over 250 applications for your website, including correspondence, finances, email marketing, Etsy, Eventbrite, and social media.
E-Commerce
With a Wix e-Commerce store, you can advertise your services and products. They have a feature – rich management platform for tracking orders, payments, and shipping. You can also use Wix Touch to build an app for your e-commerce shop.
Cost
Wix offers a range of plans, but some of the more affordable ones provide ads on your pages. Realistically, you should choose a business strategy for $15 to $30 per month (not including the expense of a domain, which is around $15 per year).
Pros
Cons
ü Wix has a large number of free templates.

 

ü With each development update, the drag and drop interface tends to get simpler, saving time when developing a website.

 

ü There are no specialized skills required to use Wix features, and with a bit of tech know-how, you can create an excellent site for your company.

 

ü Wix seamlessly integrates plugins.

 

ü The blog has an easy-to-use blog editor and SEO features built-in.

ü The drag and drop design features are highly restricted and could seem archaic to a more experienced web designer.

ü There are only a few blogging features available. If you want something customizable, the post editor is not for you.

ü You must separately edit the website's smartphone and desktop views, which can be time-consuming and challenging to create a seamless look.
Square space
Introduction
Squarespace is a web builder tool that is simple to use and provides marketing and e-commerce functionality that coaches need for Ultimate Comparison. They are a reputable website designer with dependable support staff. Squarespace has fewer design options than Wix (though still hundreds), but they're undeniably much more beautiful. Perhaps most importantly, every Squarespace template works flawlessly on both mobile and desktop platforms.
Features
Hosting
Squarespace provides hosting as part of all of their plans and the option to use your domain. Their in-house team built and runs the platform entirely. Unlike WordPress, no additional software is needed. Analytics was used in the seamless process. When everything bad happens, doing it in one company is beneficial. The tech team will have exposure to everything, from your code to your hosting, and will be ready to aid you in resolving the issue. Squarespace also handles website backups, protection, and speed.
Drag and Drop Editor
To use the web, you do not need to know HTML or CSS. When you edit, the visual editor automatically displays what your website would look like. Just as lovely as the front end and themes.
Themes
Squarespace has 40 simple, elegant, and modern templates. The number is lower than on other websites, but there is plenty of variety for design enthusiasts seeking a streamlined aesthetic. When you use your imagery, the feel of each design can shift dramatically. Multiple themes can also be used on the same website. Use the most appropriate communication and shop pages for you, even though they are not from the same style. Fonts and colors are also easily customizable.
Mobile-Ready
Each theme has been mobile-optimized. You cannot build for mobile individually, but each page is designed in reactive blocks. Please note that blocks on the right side will be displayed under the left block in mobile view.
Imagery
Photography has the potential to significantly affect a website design. This is especially true for Squarespace models, which are simplistic in text and layout to emphasize the imagery. If you do not have or want to have high-resolution images, another platform would provide you with more choices and be a better match overall. Aviary created an in-platform image editor for Squarespace to make minor changes simple.
Blogging
To keep your current workflow, Squarespace combines with typical third-party applications. Dropbox, Evernote, Google Drive, Google Calendar, and Gmail are all compatible. To keep records of ideas and blog posts, you can also use Squarespace's well-designed Note App. Notes can be published to your blog or any of the third-party applications that have been incorporated.
E-Commerce
Squarespace planned e-commerce, which is wholly integrated and allows you to sell an infinite number of items. The platform is either paid for by transaction costs in the lower packages or is included in the higher-priced commerce packages.
Pros
Cons
ü Squarespace has over 100 advanced themes and designs.

 

ü Best suited to blogging.

 

ü Squarespace is now available as a smartphone app on platforms including Android and iOS.

ü No auto-saving feature or live editing option.

ü Limited to develop small websites with basic navigation menus.

ü Due to heavy themes and pictures embedded in it, it bogs down the website marginally and can affect your SEO rankings.
Final verdict
Each of the three services has pluses and minuses. Whatever you choose, you can easily build a professional-looking website with all of them, but some can take a bit longer than others. The extra features are what make these three choices pop out in distinctive perspectives.
WordPress is best suited for the more experienced consumer who knows exactly what they want. Wix and Squarespace, on the other hand, are perfect for the beginner seeking something easy but open to learning with exposure to supporting.